Apple starts sales of SIM-free iPhone 6s, 6s Plus handsets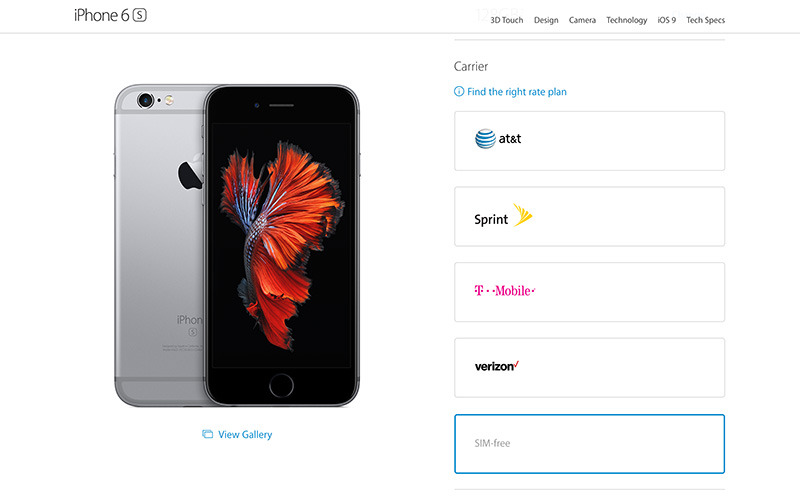 Almost one month after the iPhone 6s and 6s Plus launch in September, Apple on Thursday started sales of factory unlocked SIM-free handsets that come unbound from carrier contract commitments.
As explained on Apple's iPhone 6s purchase page, SIM-free iPhones do not include the usual carrier-specific nano-SIM card, nor are they locked in to any one network, meaning customers are free to obtain their own card from a carrier of their choosing. SIM-free iPhone 6s models are designated A1633, while iPhone 6s Plus versions are labeled A1634.
"If you don't want a multiyear service contract, or if you prefer to use a local carrier when traveling abroad, the SIM-free iPhone is the best choice," Apple says.
The company adds that SIM-free iPhone 6s units will work on a multitude of networks including those run by AT&T, Verizon, T-Mobile and Sprint in the U.S. International support is also offered thanks to iPhone's multi-band LTE radio; a full list of supported networks categorized by country can be found on Apple's website. Upon receipt, customers can activate SIM-free iPhones on any compatible GSM or CDMA network.
As noted in Apple's fine print, SIM-free iPhones are not eligible for carrier incentives or payment plans, so customers have to pay the entire handset cost upfront.
The new U.S. edition comes as iPhone 6s and 6s Plus rolls out to 40 more countries, and ahead of this weekend's launch in Bahrain, Jordan, Kuwait, Qatar, Saudi Arabia and the United Arab Emirates. The expansion continues next week with debuts in India, Malaysia and Turkey on Oct. 16. Apple is looking to get iPhone 6s into 130 countries by the end of 2015.