Japan's major architecture, engineering firms going "all iPad" in support of Apple, Inc. iOS enterprise push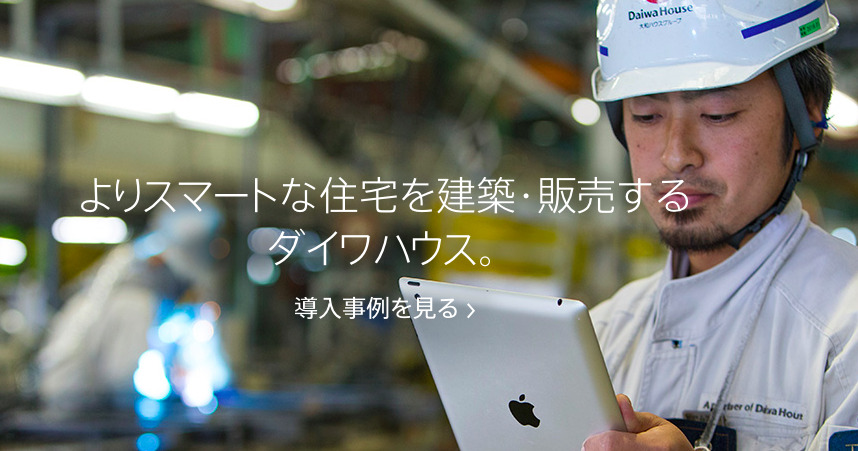 Apple's mobile enterprise ambitions are beginning to shift the market in Japan, where large architecture, engineering, construction and operations firms have already moved to standardize on iOS and iPads for their enterprise tablets.
According to a report by Architosh, Graebert— a major German CAD (computer assisted design) software developer— announced its support for iOS after finding that leading Japanese firms have already standardized on iOS in deploying thousands of iPads.
That shift is coming largely at the expense of Google's Android, and leaves diminishing hope for Microsoft's efforts to win converts back to the Windows PC, in any form factor.
Despite selling lots of consumer tablets (including a large segment of devices used at portable TVs or "kids toys," according to IDC), Android does not have the same professional backing as iOS in the corporate enterprise.
The corporate shift toward iPads has occured rapidly over the past year, thanks in part to Apple's high profile global partnership with IBM. Major design firms that already use Graphisoft ArchiCAD have also been quick to adopt iPads to make use of BIMx Docs, a mobile companion app.
Apple has specifically profiled Daiwa House Industry, Japan's largest homebuilder, as a major enterprise iPad adopter, detailing how the company uses iPads and custom iOS apps for everything from design and building tools to managing internal operations to end user sales and home management tools for customers.
Enterprise adoption of iPads is not only shifting how industries work, but is also having an impact on how Apple designs iPads. This winter, the company will begin selling its new iPad Pro, a notebook sized tablet that capitalizes on Apple's tablet app-ecosystem strength while adding a precision Apple Pencil stylus to enable drawing and annotation features that don't make sense on smaller mobile devices.
Google has promoted Android tablets as essentially being a stretched smartphone, resulting in the platform being used primarily as a way to watch videos rather than as a true Post-PC app development platform. In the other direction, Microsoft has tried to fold iPad-like features into Windows and develop hybrid tablet-laptops that promise to do everything, an approach that has neither reinvigorated the lagging PC market nor created a new product category capable of standing on its own.
Can your product run on iPad?
Last October, Graebert said it released its ARES Touch mobile CAD software for Android first, citing predictions by Gartner that claimed Google's platform would claim a leading 62 percent market share among tablets sales this year.
However, that same developer subsequently shifted to add support for iOS after considering new data: first, IDC stats showing Apple's iOS already has 80 percent of the enterprise market, and second, first-hand experience among influential large firms in the Japanese market who are asking specifically for iOS apps."Every company we visited said, 'can your product run on iPad?'" - Yoji Ebata, Graebert Japan
Cedric Desbordes, a sales and marketing executive for the firm, noted that "Apple has entered into a global partnership with IBM to develop iPad sales," adding, "we are already seeing strong interest for CAD solutions on iPad from our larger accounts in Asia."
Yoji Ebata, an executive with Graebert Japan, further stated to Architosh that Apple's iPads are already becoming the "dominant platform for tablets in Japanese AEC market," with major design and construction firms such as Obayashi, Kajima and Taisei already having deployed thousands of the devices.
Earlier this spring, Ebata noted that when Graebert began promoting its Android software to major firms in Japan, "every company we visited said, 'can your product run on iPad?'"
IBM gets enterprise fired up to buy iOS
Apple and IBM first announced their MobileFirst partnership in July 2014, outlining plans to sell iPhones and iPads paired with with industry-specific app solutions to business clients worldwide.
This June, IBM expanded the scope of its enterprise iOS app solutions with a cloud services partnership with Box, integrating that firm's cloud APIs for content management, distribution, sharing and storage.
IBM has already released more than thirty industry-specific apps for iPhone and iPad users in the enterprise, ranging from business travel, shift management, field operations and banking to education, public safety and healthcare.
Earlier this year, IBM also expanded its MobileFirst apps to support Apple Watch, adding remote notifications support to its apps targeting the healthcare, public safety and energy industries.