Apple's enterprise business ballooned 40% to reach $25B in fiscal 2015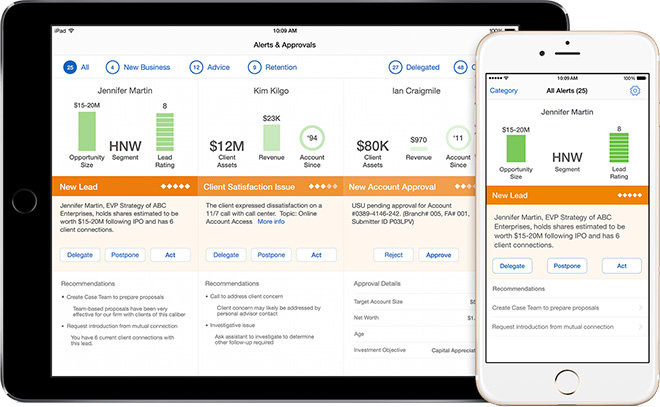 AppleInsider may earn an affiliate commission on purchases made through links on our site.
During Apple's quarterly earnings conference call on Tuesday, CEO Tim Cook said the company's enterprise operations hit a high-water mark of $25 billion over the past 12 months, up 40 percent compared to last year.
Speaking on opportunity for future growth going into 2016, Cook rattled off a few key product lines like iPhone, Mac and Apple Watch before landing on enterprise, a often overlooked line item on Apple's quarterly filing. Enterprise markets accounted for about $25 billion in revenue for fiscal 2015 and Cook expects the sector to be a "major growth vector" moving forward.
"The enterprise business is not to be underestimated," Cook said. "I doubt very many people knew that we have a $25 billion enterprise business that we've quietly built in not too many years. Our penetration is low, but we have significant action going on to really deepen that."
Cross Research analyst Shannon Cross later asked how Apple intends to better capitalize on the needs of businesses, noting the company has a comparatively small dedicated enterprise sales force. Cook said not to expect any major changes in policy, saying Apple will lean on its 75 ability partners for that purpose, firms that already have sizable direct sales teams. In addition to direct sales, Cook mentioned a "huge" worldwide indirect channel from which businesses can purchase Apple products.
"We'll clearly continue adding some people, more on the engineering side, but I don't envision having a large direct sales force," he said.
In August, Apple announced a partnership with Cisco that has the two companies working to optimize corporate networks for iPhone, iPad and iOS apps. That's on top of a groundbreaking tie-up with IBM and its MobileFirst for iOS initiative, which itself spawned a backend partnership with cloud storage and collaboration company Box.
Cook is expectedly upbeat on Apple's potential to disrupt a decidedly Windows-based market. Some companies are already seeing the benefits of switching to Mac and iOS, as Cook said IBM saves some $270 per Mac in support costs when compared to Windows machines. IBM has distributed more than 30,000 Macs to employees after activating a MacBook purchase program for employees in July, intending to ultimately dole out up to 200,000 units.