Notes of interest from Apple's Q4 2015 conference call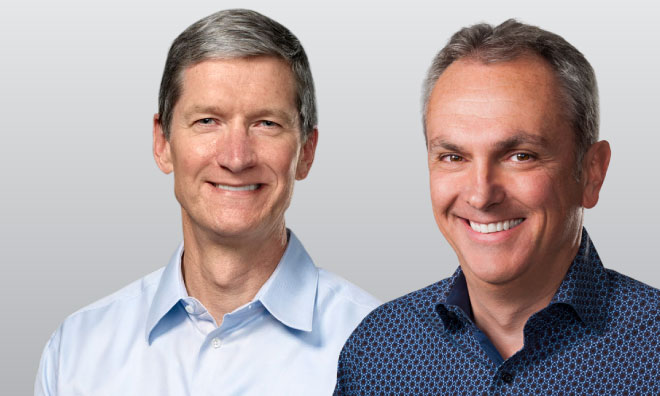 Apple grew its revenue another 22 percent year over year in its September 2015 quarter, a result set by record iPhone and Mac sales. Following the announcement, executives from the company participated in a conference call with analysts and the media, and notes of inventory follow.
Participating in Monday's call were Apple Chief Executive Tim Cook, and Chief Financial Officer Luca Maestri.
Highlights
Apple sold over 300 million devices over the last 12 months
Apple is partnering with American Express to bring Apple Pay to customers in Australia & Canada this year, expanding to Spain, Singapore & Hong Kong in 2016
Gross margins were at 39.9 percent, better than Apple's expectations, mainly due to lower-than-expected costs
Apple ended the quarter with $205 billion in cash, a sequential increase of $2.8 billion
Android users switched to iPhone at their highest rate ever, 30 percent, last quarter
Apple's iPhone business
Apple exited the quarter with iPhone demand outstripping supply.
iOS 9 is on track to be downloaded by more users than any software release in Apple's history.
Apple is partnering with American Express to bring Apple Pay to customers in "key global markets" in Australia and Canada this year, expanding to Spain, Singapore and Hong Kong in 2016.
More than 50 brands are working on HomeKit-enabled accessories.
iOS News app is "off to a great start," with nearly 40 million people reading, Cook said. Just launched last week in the U.K. and Australia.
Total iPhone sales were up 120 percent in mainland China.
iPhone ASP was $670, an increase of $67 year over year.
LTE penetration in emerging markets remains low, giving more room for iPhone growth.
Cook said that China is poised for continued tremendous change in the coming years. "I feel like we're reasonably well positioned in China," he said.
Apple believes that iPhone upgrade programs, both from itself and carriers, will have a positive impact on replacement cycles.
Apple's Mac business
The Mac set an all-time record in the quarter, reaching 5.7 million units in the three-month period.
Mac revenue was up 4 percent.
Apple Watch
Sales of the Apple Watch were up sequentially, and were ahead of Apple's expectations. As expected, Apple declined to reveal specific sales.
More than 13,000 apps are available for Apple Watch, with 1,300 of those native apps for watchOS 2.
Tim Cook has heard from people who credit Apple Watch with saving their lives.
Apple Watch was available at almost 5,000 stores in 32 countries by the end of the quarter.
Apple's business in China
Revenue nearly doubled year over year in China.
Cook recently visited China, announcing new environmental initiatives and visiting local stores.
Apple is on track to have 40 stores in China by the middle of next year.
Apple is investing in China for the "decades ahead," not the short-term, Cook said.
He vowed that China will be Apple's top market not just for sales, but also in terms of development of apps.
40 percent of new iPad buyers in China had never owned an Apple product before.
Apple TV
Apple had a "huge" first day of sales for the fourth-generation Apple TV, Cook said.
Preorders began on Monday, and the first units will arrive in the mail on Friday.
Apple's iPad business
iPad Pro is on track to begin shipping in November.
Corporate buyers report a 95 percent satisfaction rate for iPad.
NPD estimates that iPad has 73 percent share of U.S. tablets priced above $200.
App Store, Apple Music and services
Over 15 million individual and family accounts are currently using Apple Music, including 6.5 million paying customers.
Services revenue reached an all-time high in the September quarter of $5.1 billion, up 10 percent, mainly due to strong growth from apps.
App Store revenue was up 127 percent year over year in China.
App Store business grew 25 percent last quarter.
Apple's enterprise business
Apple estimates that enterprise markets represented about $25 billion in revenue for Apple over the last 12 months, up 40 percent year over year.
Over 30,000 Macs within IBM, with 1,900 more being added each week. IBM says each Mac saves $270 compared to a traditional PC, thanks to reduced support costs.
Cook said that investors should not underestimate Apple's enterprise business, built to large numbers in "not too many years."
Apple's retail business
Apple expects to upgrade or replace between 40 and 50 stores in fiscal 2016.
The retail-only iPhone Upgrade Program has generated interest among customers, Maestri said.
Apple's next (Q1 F2016) quarter
Apple is projecting revenue between $75.5 billion and $77.5 billion, with gross margins between 39 and 40 percent
Operating expenses are expected to be between $6.3 billion and $6.4 billion, with other income of $400 million, and a tax rate of 26.2 percent.