Apple hire suggests work on advanced EV software, 'digital license plate'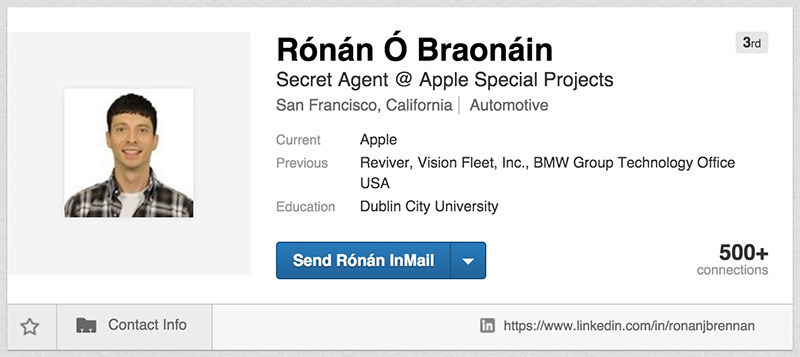 Adding fuel to the Apple Car rumor bonfire, Apple this summer hired an automotive engineer with vast experience in the electric vehicle industry, and who most recently worked at a company called Reviver, self-proclaimed creators of the world's first "digital license plate."
According to his LinkedIn profile, spotted by Elektrek, Rónán Ó Braonáin has extensive knowledge of electric vehicle integrations having spent considerable time at BMW as a software engineer. He was CTO at EV fleet solutions firm Vision Fleet before joining Reviver as director of engineering. Braonáin has held the position of "Secret Agent" at "Apple Special Projects" for four months.
At BMW, Braonáin had a hand in connected app development, and from 2012 to 2014 built out the Munich-based carmaker's portfolio of sustainable mobility and electric vehicle software. He also organized BMW's first hackathon, dubbed the "Sustainability Hackathon," as part of the company's i-series roadshow.
As director of engineering at Reviver, Braonáin helped realize Slate, an Internet-connected digital license plate platform designed for fleet deployments. The system is capable of registering and monitoring multiple vehicles from a central Web-based hub. Administrators can track vehicle location, keep track of maintenance records and send out messages in real time. It is unclear how digital license plate technology might translate to a consumer product.
Considering his comparatively brief stint at Reviver, however, it seems more likely that Braonáin is applying his expertise in vehicle software systems and integration to work on Apple's rumored car project.
Apple has made a number of high-level hires from the automotive industry for what is widely thought to be an electric vehicle. Referred to internally as "Project Titan," Apple's secret initiative is well underway at facilities in Sunnyvale, Calif., and beyond.
Aside from an electric propulsion system, Apple is said to be developing autonomous capabilities for its supposed car. Seemingly corroborating such rumors is Apple's recent hire of Jonathan Cohen, former director of Nvidia's autonomous vehicle program. The company also snapped up artificial intelligence firm Perceptio this summer, suggesting research into advanced computer vision technology, a necessity for safe self-driving vehicle systems.