China to clamp down on Internet music platforms in 2016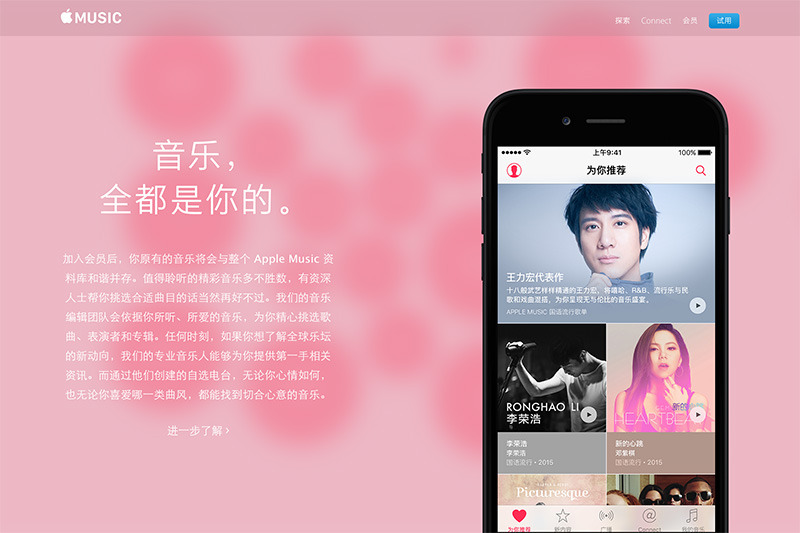 AppleInsider is supported by its audience and may earn commission as an Amazon Associate and affiliate partner on qualifying purchases. These affiliate partnerships do not influence our editorial content.
China this week announced plans to ratchet up its Internet policing policies and will soon impose strict rules that require online music service providers — which as of September includes Apple — to filter out "harmful" content prior to streaming.
Posted to a website operated by China's Ministry of Culture, the self-censorship program states companies offering streaming music services will need to filter out content starting Jan. 1. The edict could have far-reaching effects for Chinese consumers who currently rely on local tech firms Alibaba, Tencent and Baidu for their music streaming needs.
Apple, a company diametrically opposed to censorship, just debuted a Chinese version of Apple Music in September alongside access to iTunes Movies and iBooks. Customers who signed up for Apple Music at launch are currently halfway through a three-month free trial period scheduled to end at roughly the same time China will enact its regulations.
It is unclear how the new mandate will affect Apple's fledgling service, but Reuters notes Internet companies in the region dedicate teams of employees to remove questionable material from websites and apps. Experts believe China's self-censorship system, or more specifically the threat of punitive action, prompts companies to be more conservative than is actually necessary.
Apple and the Chinese government have butted heads on censorship issues in the past. Most recently the iPhone maker disabled the iOS 9 News app in a move reportedly aimed at appeasing China's government. News can be downloaded on an iPhone or iPad outside of mainland China, but the app fails to refresh content once that device connects to a Chinese cellular network.
With Apple Music getting off the ground in China and competing platforms like Spotify, Rdio and Pandora waiting in the wings, some worry the new policy might dissuade content providers from entering the huge Asian market.