Apple Pencil, Smart Keyboard ship times at 4 to 5 weeks as 128GB iPad Pro models sell out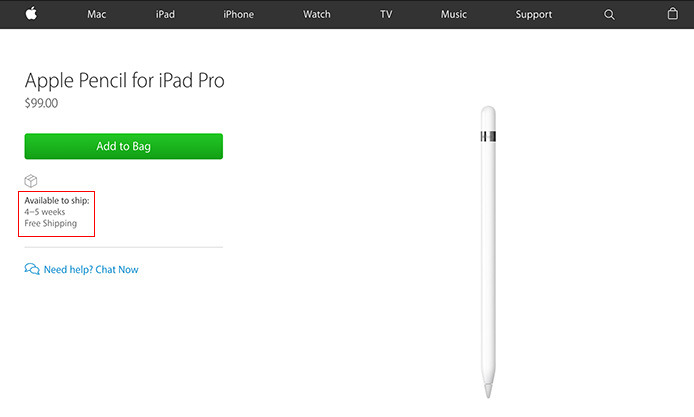 AppleInsider is supported by its audience and may earn commission as an Amazon Associate and affiliate partner on qualifying purchases. These affiliate partnerships do not influence our editorial content.
Apple is already showing stockouts of certain iPad Pro models less than two days after kicking off preorders, while shipping estimates for Apple Pencil and the Smart Keyboard, both deemed essential to the iPad Pro experience, have fallen to 4 to 5 weeks.
Apple saw its initial batch of 128GB iPad Pro models quickly depleted on Thursday, with both Wi-Fi and Wi-Fi + Cellular versions no longer available for pickup at most brick-and-mortar Apple Stores and estimated next-day delivery times pegged at 12 to 15 days out. The stockout applies to all three color options.
Supply constraints appear to be limited to higher capacity 128GB models, however, as 32GB configurations — exclusive to Wi-Fi only configurations — are showing pickup availability at most stores across the U.S. Customers who choose expedited shipping for their 32GB iPad Pro purchase are promised delivery on Nov. 16, while free shipping arrives a day later.
Suffering more substantial delays are Apple Pencil and the new Smart Keyboard, both of which might be considered more of an essential than an add-on accessory by prospective iPad Pro buyers. Shipping availability is estimated at 4 to 5 weeks for both devices, up from the one-week wait times seen at launch.
Apple is touting iPad Pro as a tool for creatives and many users are thinking about purchasing the device specifically for such purposes. As such, the lack of launch day availability for the two first-party accessories came as a disappointment to some.
Apple Pencil is a pressure- and tilt-sensitive stylus developed in tandem with specialized display hardware only found in iPad Pro, meaning its full potential can only be realized on the jumbo-size tablet.
The Smart Keyboard is also specific to iPad Pro as it uses Apple's new Smart Connector interface, but its absence at launch is less of a concern thanks to third-party products like Logitech's Create Backlit Keyboard Case.