Apple's iPad Pro & powerful A9X CPU pose threat to Intel, Cowen says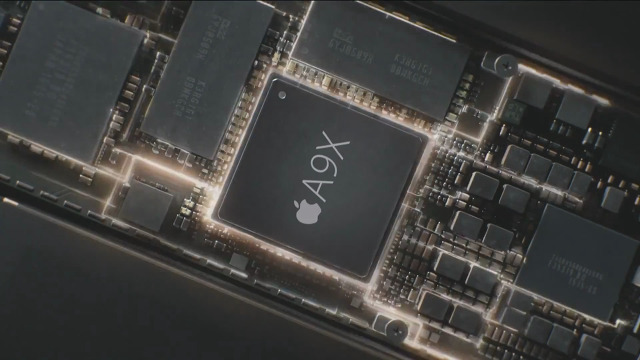 Investment firm Cowen and Company has a bullish outlook for Apple's new iPad Pro, citing performance benchmarks that show the device is capable of replacing many mainstream laptops running an Intel processor.
In a note to investors on Thursday, a copy of which was provided to AppleInsider, analyst Timothy Arcuri noted that new iPad Pro's A9X chip offers performance that surpasses the Intel Core M processor used in the new 12-inch MacBook. The CPU also compares favorably to the Core i5 processor used in the baseline Macbook Air, although it is still far behind that of higher-end Macbook Pro laptops which use Core i5 and i7 processors.
A look at the GPU shows a similar story: The A9X outperformed all Apple laptops that use integrated Intel graphics, registering a three-to-four-times improvement in frame rate of the 12-inch MacBook with Retina display. The iPad Pro processor also posted an improvement of as much as 40 percent over the Intel Iris 5200 integrated graphics featured on the 15-inch MacBook Pro.
Despite the bullish prognostications based on these numbers, Arcuri was quick to point out that software developers will ultimately determine how much the iPad Pro can replace a PC for mainstream consumers. In particular, it remains to be seen whether or not developers can create experiences for the iPad that compare favorably to the same software on a desktop or notebook.
If they can, Arcuri believes Intel's mobile CPU business might be most at risk, despite the potential for cannibalization within Apple's own line of higher-end Mac products.
"While the iPad Pro is not a PC replacement yet, AAPL and ARM are coming and the hardware is certainly a threat to INTC mobile CPU business once the software developers catch up," Arcuri said.
Cowen and Company also believes that the move to three cores for an anticipated "A10" chip would be a positive for existing Apple supply giants Taiwan Semiconductor Manufacturing Co. and Applied Materials, as well as other semiconductor outfits like KLA-Tencor and ASML Holding.
The firm has maintained a neutral "market perform" rating for shares of AAPL with a price target of $135.