IBM Watson Trend pegs Apple Watch as hottest holiday gift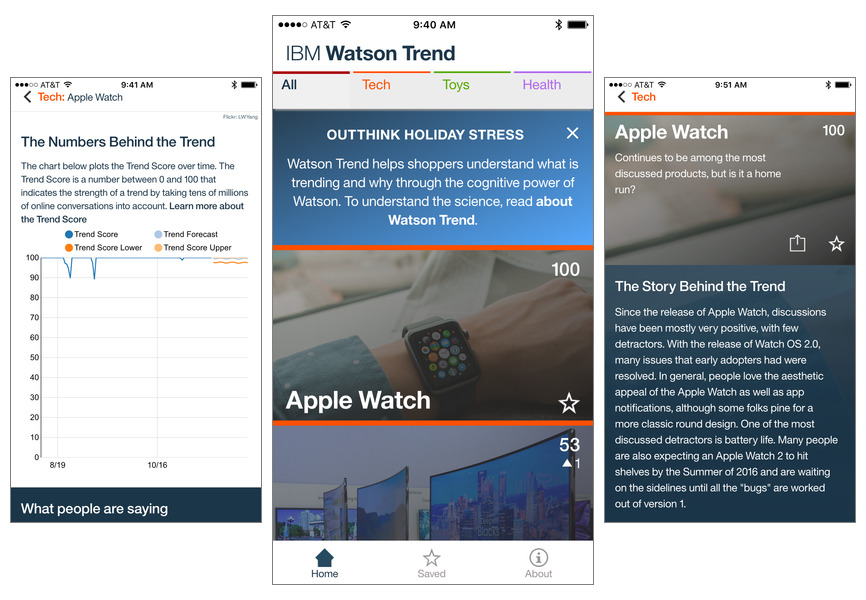 IBM on Wednesday launched a new app and service called Watson Trend, which forecasts what consumer products will be popular this holiday season based on online chatter. Currently dominating the list: the Apple Watch.
IBM Watson Trend is a free download from the iOS App Store, designed for both iPhone and iPad. It uses IBM's supercomputer technology to read and interpret millions of reviews, expert blogs and social media conversations to determine what gifts people are talking about.
By far the most popular device on the list is the Apple Watch, which has maintained a "trend score" above 90 (out of 100) since mid-August. With a perfect score of 100 as of Wednesday, the Apple Watch has a score nearly double that of the next closest product: Samsung TVs.
Of course, the Watson algorithm simply says that users are talking about the Apple Watch, not necessarily buying it. Apple's actual hottest selling product is the iPhone lineup, which observers expect to sell nearly 80 million units in this quarter alone.
Apple hasn't disclosed actual sales figures for the Apple Watch, and has no plans to do so, citing competitive reasons. Still, data and commentary from the company reveal that the Apple Watch outperformed the initial launches of the iPhone in 2007 and the iPad in 2010, with total sales of at least $1.7 billion in the first five months.
IBM's Watson Trend notes that discussion about the Apple Watch has been "mostly very positive, with few detractors." In particular, it said that the debut of watchOS 2.0 in September addressed many early adopter concerns with the device.
In terms of negatives, the main concern among users discussing the Apple Watch is battery life. In its current state, the Apple Watch must be recharged nightly, with an advertised uptime of 18 hours.
"Many people are also expecting an Apple Watch 2 to hit the shelves by the Summer of 2016 and are waiting on the sidelines until all the 'bugs' are worked out of version 1," IBM said.
IBM Watson Trend scours 10,000 sources, including social media sites, blogs, forums, comments, ratings and reviews. Rather than just ranking discussion, Watson also uses its natural language processing capabilities to determine how consumers feel about products they are considering or have purchased.
Other trends revealed by Watson include demand for professional-grade cameras, "Star Wars" and Lego toys, and the "Minecraft" wearable Gameband.
IBM has also predicted that this year, for the first time ever, more consumers will turn to their mobile devices than a traditional PC to conduct their holiday shopping.