Study: Dissatisfied Apple Watch owners cite lack of features, but half will buy next-gen model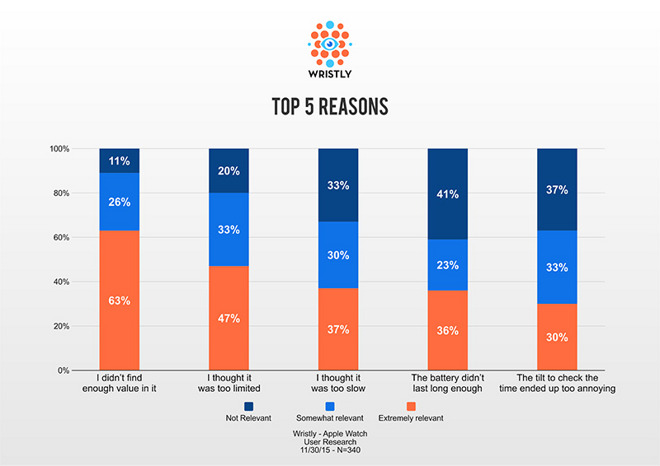 A recent study conducted by smartwatch market research firm Wristly found an overall lack of performance the common thread between unsatisfied Apple Watch owners, though roughly half of respondents said they would consider buying a second-generation model.
Wristly, which in a recent study found Apple Watch to have a 97 percent satisfaction rate among owners, polled more than 330 users who were ultimately dissatisfied with their purchase to find a general lack of value was by far the most cited reason buyers parted ways with Apple Watch. Some 89 percent of respondents said the device was a poor cost/benefit proposition.
More telling, however, are the 80 percent who found Watch's feature set limited. When Apple Watch first launched some derided the device for its lack of onboard GPS and cellular radios, a heavy reliance on data tethering and opaque GUI controls. Apple addressed certain issues, like native app support and third-party watch face complications, with the release of watchOS 2 in September.
The study also found a good portion of owners unsatisfied with Watch's performance and poor battery life, though it is unclear whether customers were referring to unresponsive non-native watchOS apps or sluggish hardware.
Interestingly, 53 percent of respondents found Apple Watch's tilt-to-activate screen function "annoying." Employed as a power saving feature, Apple Watch's display remains off unless triggered by a raise of the wrist, a screen tap or button press. While Apple's raise-to-wake mechanism is responsive in comparison to other smartwatches, it's nowhere near as convenient as a traditional timepiece.
According to the study, a majority of disappointed Apple Watch owners ended up keeping the device. For unknown reasons — perhaps a higher price of entry — owners of the stainless steel version were reluctant to part with the device, with 65 percent saying they stuffed their unit in a drawer. Some 12 percent returned their stainless steel model to Apple, while 18 percent sold it and 5 percent gave it to a family member. The numbers compare to unsatisfied Apple Watch Sport buyers, 50 percent of whom stashed their device in a drawer, 17 percent returned it, 24 percent sold their copy and 9 percent gave it away.
Going further, Wristly was able to get 70 percent of the original sample pool to answer a series of follow-up questions pertaining to ongoing use. Of note, 30 percent of this smaller batch of owners still wear Apple Watch despite voicing dissatisfaction. Perhaps most surprising among the statistics was roughly half of respondents planned to buy a next-generation model.