HP abandons low-end Android tablets to focus on profitability with iPad-like prices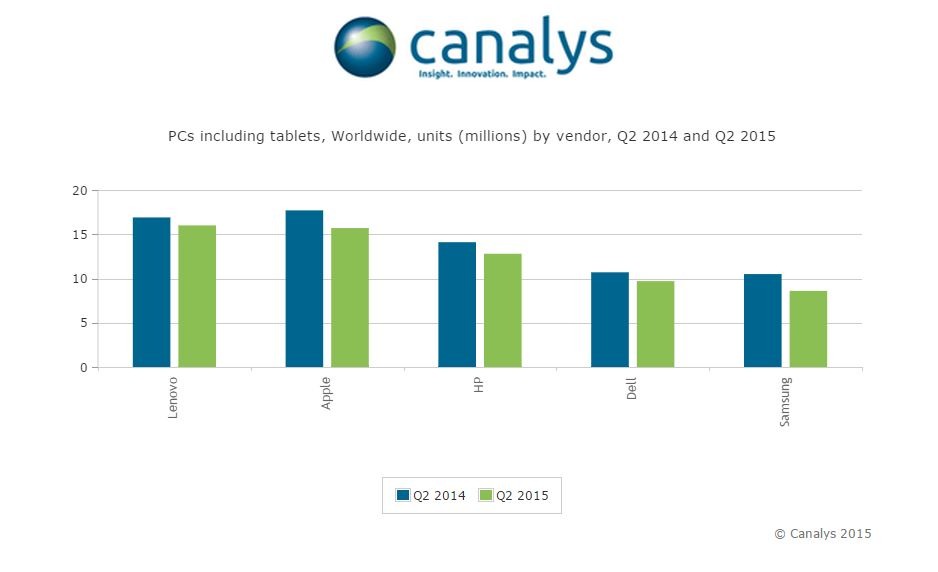 HP, the world's third largest PC and tablet maker in unit volumes behind Lenovo and Apple, is exiting the low-end tablet market to focus on smaller volumes of higher-end products priced similar to iPad.
Globally, computer makers have seen double-digit percentage declines in their combined sales of tablets, notebooks and tablets over the past year, as noted by Canalys in its Q2 data published in August (above).
Cheap Android tablets a bad business to be in
HP had been pursuing a high volume, low-end tablet strategy since the debut of its $99 Slate 7 (an Intel-subsidized, Android 4.1 tablet) in 2013. Its successor, the HP7 G2, is a similarly priced 7 inch tablet that runs the two-year old Android 4.4 KitKat and uses an Allwinner ARM chip.
Tablets in general are buried out of view on HP's primary site, which focuses mostly on conventional PCs. However, the company prominently highlighted its "7 inch tablets" on its CyberMonday shopping page, apparently as a liquidation effort.
Shortly after separating its consumer and enterprise businesses into two different companies, HP has announced that it will be terminating its low-end tablet lines.
The HP7 G2 is already listed as out of stock, and the company's second cheapest model, HP 8 G2 (a similarly specced 9 inch version that was sold for $149) is also now listed as out of stock.
In a statement made to PC World, HP's president of Personal Systems Ron Coughlin said, "we are going to focus where there is profitability and growth and will not chase the low-end tablet market. We are focusing on business mobility to deliver tablets built for field service, education, retail and healthcare."
HP's tablet prices are now very similar to Apple's iPad prices
The cheapest tablets HP still lists as available are two business tablets (the $299 8 inch Pro Tablet 408 8 and 10 inch Pro Tablet 10, both powered by an Intel Atom chip, running Windows 8.1 and navigated by a stylus-driven interface) and two consumer models (the $329 and $429 8 inch Envy 8 Note, both powered by an Intel Atom chip, running Windows 10 and navigated by a stylus-driven interface).
The cheapest Android tablets HP still offers are two 8 inch HP Pro Slate 8 models, priced at $499 and $469, both using an ARM Qualcomm Snapdragon 801 and running Android 5.0 Lollipop.
That leaves HP's new tablet lineup priced similar to Apple, where entry level 7.9 inch iPad mini models range from $269 to $399, and 9.7 iPad Air models start at $399 to $499. HP also sells a variety of larger 10 to 11 inch business tablets running Windows 8.1, priced at or above the new 12.9 inch iPad Pro.
Windows PC makers are not selling many tablets
HP's sales of tablets of any kind were never very large. Comparing shipment data from IDC and Gartner (which refuse to count tablets as PCs) with Canalys' combined data, it appears that virtually all (more than 90 percent) of the computers sold by Lenovo, HP and Dell were conventional PC notebooks, desktops or workstations.
HP does report a breakdown of its roughly $8 billion in quarterly revenues from the Personal Systems Group: about 53 percent comes from notebook sales, 36 percent from desktops and 7 percent from workstations, with less than 4 percent coming from "other," including tablets.
Most of HP's revenues (just under $13 billion per quarter) come from its Printing business, while its Enterprise servers, storage and networking contribute $7 billion and Enterprise Services contribute another $5 billion.
That reinforces how little tablet sales contribute to HP, which has long been America's largest Windows PC maker, despite nearly two decades of efforts to build Microsoft Windows Tablet PCs, UMPC, the Slate PC, independent efforts to create a credible iPad competitor in the $1.2 billion acquisition of Palm's webOS for the HP TouchPad (below) and a subsequent two-pronged effort to build both Android and Windows tablets.
iPads huge for Apple, despite slowdown in unit sales
In stark contrast, almost two-thirds of Apple's calendar Q2 computer sales were iPads compared to Macs. Apple is the only PC and tablet vendor that actually publishes detailed unit sales data. Across all of Apple's fiscal 2015 (which ended in September), iPads accounted for 54.9 million units sold, while the company sold 20.6 million Macs, a ratio of 2.6 to 1 (more than 70 percent).
However, in terms of revenues iPad contributed $23.2 billion compared to $25.5 billion from Macs. So despite increasing Apple's total computer volumes dramatically, lower priced iPads generate lower, but still very large total revenues, compared to Macs.
That also highlights why Apple has zero interest in giving up Macs or in ignoring iPad sales, or in building a hybrid device to replace its existing Macs and iPads with a new product category forced to make design compromises to find a market, like Microsoft's Surface.
In contrast, HP sells a very small number of tablets, which don't contribute enough revenues to warrant detailing. Apart from unit volumes and revenues, Apple and HP also have very different profit margins from tablets. HP's Personal Systems hardware group reports an overall operating margin of 3 percent. Apple's overall operating margin is 31 percent.
So while iPad generated revenues for Apple that were nearly as large as HP's entire PC hardware business, Apple's profits from iPads alone were about ten times higher than HP's entire computer-making operation. And Apple's profits from just Mac sales were even higher, despite selling fewer than half as many notebooks and desktops as HP.
iPad and the Hard Time Making A Go Of It
While HP works to rid itself of its unprofitable low end tablets, one pundit volunteering his take on HP preferred to make HP's disastrous tablet situation more about Apple. Unsurprisingly that was Roger Entner, an analyst at Endpoint Technologies, a common press contact who generates soundbites for journalists on a deadline.
When asked about HP's move away from cheap tablets, Entner offered that "even Apple, after creating the market, is having a hard time making a go of tablets."
Again, Apple's iPad business contributes revenues similar to HP's entire computing business, at an operating margin ten times that of HP. And that is after losing much of the iPad's sales volumes to iPhone 6 Plus over the last year.
Windows PC makers would likely prefer that tablets just go away
Unlike the top three PC makers— and similar to Apple— it appears that more than half of Samsung's computer shipments are also tablets rather than conventional PCs. However, Samsung generates very little revenue or profit from tablets, Chromebooks and PCs, relying primarily on smartphones to fund its IT and Mobile segment.
The inability of top Windows PC makers to materially participate in the tablet market highlights why Windows-oriented reporting firms have segregated "media tablets" from conventional PCs; such a unit sales comparison would only benefit Apple, Samsung and other Android makers.
This also explains why IDC, Gartner and Strategy Analytics rely upon vast numbers of white box, generic "tablet" shipments in China and developing countries to depict iPad sales as troubled and perpetually falling in "market share," because only looking at the commercially significant segment of the tablet market is bad news for everyone but Apple.
Comparing revenues and profitability would be even less flattering for all companies outside of Apple. While Apple is now earning an incredible 94 percent of the world's smartphone profits, it appears that Apple earns an equal or even greater share of tablet profits, as exemplified by HP (a PC maker that makes virtually nothing from tablets) and Samsung (a high volume tablet maker that still earns very little from that business).