Apple Store to offer free overnight shipping on Dec. 23, late-notice pickups on Christmas Eve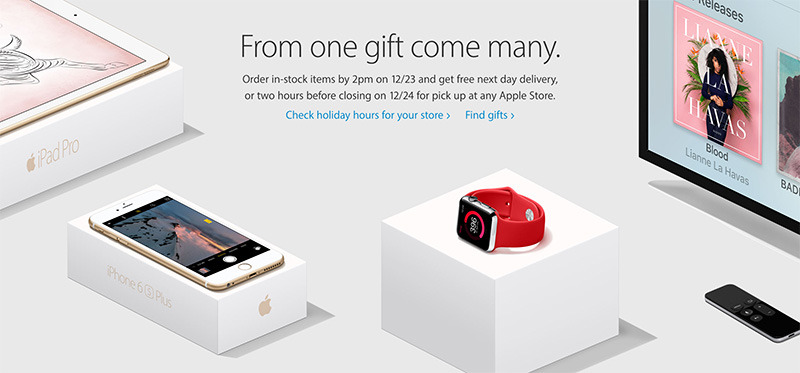 As it has done in previous years, Apple is once again offering free next day deliveries to last minute holiday shoppers, as well as late in-store pickups at brick-and-mortar locations.
Announced on Apple's product information webpages, the free overnight shipping option applies to orders of in-stock items placed by 2 p.m. on Dec. 23. The website does not specify whether that deadline relates to customers' local time zone, though Apple's announcements usually refer to PST.
Overnight shipping comes standard for iPhone orders and is normally available as an add-on for other Apple products.
As for personal pickup, customers can place orders of in-stock items up to two hours prior to an Apple Store's closing time on Dec. 24 for guaranteed availability.
Aside from iPhone 6s and 6s Plus, Apple is pushing Apple Watch as this year's hot holiday gift. Third party resellers like Best Buy and B&H Photo have been applying deep discounts on Apple's wearable since mid-November, with the latest round shaving $100 off retail pricing.