Apple assigns App Store oversight to Phil Schiller in apparent nod to developer issues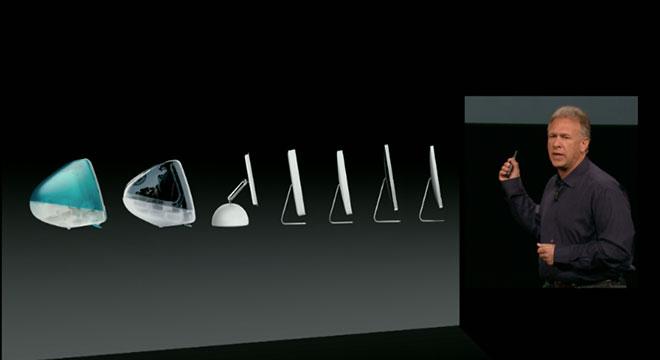 Apple's decision to split its App Stores out of Eddy Cue's iTunes and iCloud oversight and instead assign them to Phil Schiller, its head of worldwide marketing, appears to based on an effort to differentiate platform management of developers' interactive apps from the reselling of static content from media holders, and to handle each appropriately.
Apple SVP of Worldwide Marketing Phil Schiller introducing the latest iMac form factor in 2012
Apple's executive changes
Apple officially named Jeff Williams as chief operating officer, elevated Johny Srouji to the new role of senior vice president of Hardware Technologies and recruited Tor Myhren as a new vice president of marketing communications.
That last appointment appears to delegate away some of Schiller's responsibilities related to marketing, opening up his role to take on the management of Apple's increasingly large ecosystem tied to the App Store, formerly considered part of Cue's iTunes-related umbrella of Internet Software and Services.
The growth of Cue's online iTunes empire
Cue retains his role in managing iTunes and iCloud related services, including the dealmaking behind music, TV and film sales and ecosystem extensions including Apple Pay, iBeacons and CarPlay, as well as supporting initiatives such as Siri, Maps and iAd, and Apple's in-house development teams behind apps including Keynote, Pages, Numbers, Logic, Garageband, Final Cut Pro and iMovie.
Apple's executive bio states that Cue "leads a large organization of amazing people," and notes that he played "a major role" in creating the original Apple online store. Steve Jobs unveiled that store in 1998— alongside the new PowerMac G3— as key to enabling online built-to-order Macs as part of a streamlined new hardware operation.
Cue is also credited with playing a "key role" in developing Apple's iLife software suite. That software started with iMovie, a product derived from the Final Cut expertise Apple acquired in 1998 when it bought KeyGrip, Macromedia's QuickTime-based non-linear video editor, in order to rescue it from oblivion.
The Apple of the 1990s hadn't exhibited much interest in developing its own software apps; instead, it had spun off the apps it did own into its Claris subsidiary, which was later downsized into FileMaker Inc. However, Jobs' revamped new Apple saw Final Cut as a way to sell its new PowerMac G3. The following year, Apple released Final Cut Pro for the Mac alongside the new iMovie, a consumer version bundled with iMac DV.
That new recognition of the ability of apps to sell hardware subsequently led Apple to buy Astarte's DVD authoring software and Casady & Greenes' SoundJam MP3 player the following year, resulting in iDVD and iTunes, a move that set Apple up to introduce its own MP3 player by the end of 2001.
Apple then acquired Bluefish Labs to help start a new line of productivity apps that would become iWork, then took in Emagic, the development team behind Logic that would go on to create Garage Band. While overseeing the development of internal apps, Cue also orchestrated the development of the 2003 iTunes Music Store, which set up a novel marketplace for selling digital content.
The success of the iTunes Store led Apple to add TV programming and music videos in 2005, and then movies in 2007 with the release of iTunes 7.0. That version also introduced another new feature: iPod Games, an initiative that began selling FairPlay-protected third party software titles, setting the stage for the iPhone App Store in 2008.
The following year, Apple also began experimenting with interactive content for music and movies called iTunes Extras, extending interactive content into a new realm. Since 2010, Apple has launched iPad apps, followed by watchOS apps and most recently, apps and interactive streaming sold through the new fourth generation Apple TV.
At the same time, other technologies related to iTunes have grown into new product categories under Cue's direction. That includes AirTunes, a streaming service that became AirPlay, which has since grown into the driving concept behind CarPlay.
Cue's iTunes group also stumbled upon audio blogging, which became so popular among iPod users that it gained the name "podcasting." Apple not only embraced podcasting in iTunes, but also created the infrastructure to support free public sharing of podcasts from educational institutions around the world via iTunes U.
In parallel, a variety of online services at Apple have grown into today's iCloud services, which Apple has also lumped in with its iTunes and App Store business under Cue's direction. The vast breadth and depth of all these initiatives makes it easy to criticize Cue, who has been targeted as the public figure who represents the often maligned iTunes software, the significant problems associated with iCloud, and most recently, a brewing dissatisfaction with App Store policies from developers.
That has particularly grown to a head with the Mac App Store, where developers generally see less opportunity to make money compared to the higher volume iOS App Store, and where they raise bigger issues with the restrictions and rules that impact their ability to launch and maintain innovative software titles.
Separating static iTunes content from interactive App Store software
Pulling App Store software operations from Cue's direction and assigning them to Schiller makes sense because of the significant difference between managing the development and resale of software from individual third party developers compared to the dealmaking at the core of iTunes' partnerships with the studios and labels that own libraries of static content.
It looks like Apple is recognizing that App Stores differ from iTunes; 3rd party devs are more like musicians than music labels

— Daniel Eran Dilger (@DanielEran) December 17, 2015
While iTunes largely acts as a reseller for music labels' and movie studios' catalogs of digital content across downloads, rentals and streaming subscriptions, Apple's role in marketing third party developers' titles in the App Store titles is more like that of a label itself.
Apple defines the development platform for interactive content, including iOS apps for iPhones and iPad, watchOS software, tvOS apps and streaming content, as well as interactive iBooks created for sale in the iBooks Store. That requires a different style of interaction with the owners of the content being created.
Further, beyond simply playing back iTunes Store media, App Store titles need to more closely coordinate with the future direction of Apple's hardware products. One of the best examples of this is the new Apple TV, a product that defines the type of software that developers will be able to deliver for it.
As a product marketer, Schiller's role goes beyond advertising; product marketing helps to define how products are positioned and defined. Schiller is named in Apple's patent for the iPod's click-wheel, for example, highlighting his role in not just communicating products to customers, but shaping the very product message itself.
Schiller's key grip on products and developers
It just so happens that the same KeyGrip software that launched Apple into the modern apps market— a move that led to the creation Cue's iTunes, the iTunes Store and subsequent App Stores— was brought to Apple essentially by way of Schiller, who had been Macromedia's vice president of product marketing from 1995 to 1997, during the development of KeyGrip. At the time, Schiller also knew something about Apple, having earlier worked there between 1987 and 1993 as a product marketing manager.
Schiller returned to Apple in 1997 to become its senior vice president of worldwide marketing, the same year Jobs took over as the chief executive of the then-struggling company. One of the larger problems for the company was that Microsoft was flexing its monopoly power in an effort to destroy Apple's QuickTime multimedia software, which was then one of Apple's key remaining assets.
In a deposition related to Microsoft's monopoly trial, Schiller testified that after failing to deliver its own ActiveMovie competitor to Apple's QuickTime, Microsoft simply demanded that Apple give up its media playback market share outside of the Mac. Microsoft had also pressured Compaq to stop bundling QuickTime software on its PCs and worked to contractually stop third party developers from supporting QuickTime apps.
Aware of the fate of Macromedia's QuickTime-based Final Cut software, Schiller helped to initiate Jobs' orchestration of a strategy to acquire the Final Cut team as part of a larger plan to develop software capable of selling high end new Macs equipped with Apple's then-new FireWire high speed cabling protocol.
Additionally, Apple pursued a parallel new initiative to reenter the consumer market with the iMac, and embark upon a "digital hub" strategy that would ultimately launch the FireWire-powered iPod to begin the resurgence of Apple as a consumer electronics manufacturer, fueled initially by the QuickTime-powered iTunes at the center of the hub, and then eventually by iCloud.
Incidentally, Schiller had also worked with Kevin Lynch at Macromedia, the person Apple identified and recruited in 2013 to head its Apple Watch effort.
Schiller as Apple's public API
Schiller has increasingly served as a public face for Apple's communications with its developers at WWDC over the last 18 years. The expansion of that role, as announced by Cook, stated that "Phil is taking on new responsibilities for advancing our ecosystem, led by the App Store, which has grown from a single, groundbreaking iOS store into four powerful platforms and an increasingly important part of our business."
Cook also added, "Schiller will focus on strategies to extend the ecosystem Apple customers have come to love when using their iPhone, iPad, Mac, Apple Watch and Apple TV," and that he "now leads nearly all developer-related functions at Apple."
Schiller has expanded his public interfacing role even further this year, offering unusual interviews to Daring Fireball columnist John Gruber and Mashable writer John Ternus, both of which discussed product design decisions and corporate policies.
Dedicating Schiller to the task of working even closer with the development community appears to be a clear recognition that Apple's iTunes, iCloud and related other services have become a business large enough to have two executive team members involved directly with running the show.
Apple's Services segment, which includes the iTunes Store, App Store, Mac App Store, iBooks Store, Apple Music, AppleCare, Apple Pay and licensing, brought in $20 billion over the last fiscal year, while its Other Products— a category that includes Apple TV, iPod, Apple Watch, Beats and other accessories— amounted to another $10 billion, making those two business segments combined significantly larger than both Apple's $25 billion Mac and $23 billion iPad business.