Apple stock closes first negative year since 2008, but Wall Street upbeat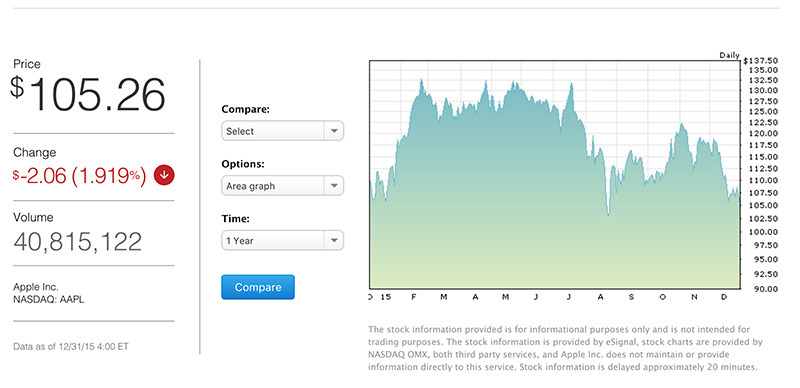 AppleInsider is supported by its audience and may earn commission as an Amazon Associate and affiliate partner on qualifying purchases. These affiliate partnerships do not influence our editorial content.
Despite record-breaking quarterly earnings and continued market growth in the face of withering industry headwinds, Apple stock closed out 2015 down for first time since 2008, though analysts remain positive on the company's near-future prospects.
Apple shares stood at $105.26 at the end of Thursday, the last trading day of 2015, down 4.64 percent from the start of the year and 21.76 percent from an all-time intra-day high of $134.54 reached in April. The stock was negative 2.06 percent for the day.
As noted by Reuters, this will be the first negative year for Apple since 2008, when shares finished down 52 percent. Much has changed over the intervening years, however, including a stock split, substantial dividends payouts and huge open stock buybacks. Most recently, Apple's performance earned it a place on the Dow Jones industrial average, replacing AT&T in March.
As for 2015, declines removed about $57 billion from Apple's market capitalization, leaving the company valued below $600 billion. In context, Apple's value dropped by approximately 20 percent since its April high, and 17.5 percent since being added to the Dow.
Still, Wall Street analysts have faith in the world's largest company. According to Reuters, a check with 49 brokerages showed 41 hold a positive rating for Apple stock, while none have issued a "sell" rating.
Analysts from high-profile firms — RBC Capital Markets, J.P. Morgan and Morgan Stanley — recently glommed onto vague supply chain reports claiming lower than usual iPhone demand, eliciting a prompt slashing of quarterly shipment projections for the company's biggest money maker. FBR & Co. analyst Daniel Ives, who was the latest to model down, spoke with CNBC earlier this week about chinks in Apple's armor.
"I think the blooms are coming off the rose a bit for Apple. Not just in terms of the multiple, or in terms of what investors want to pay, but in terms of products," Ives said. "It's a make-or-break, white-knuckle period for Apple."
Specifically, the concern is that iPhone 6s won't be able to replicate the blockbuster success enjoyed by last year's iPhone 6 and 6 Plus, which addressed pent-up demand owing in no small part to consumers waiting for Apple's answer to Android phablets. Investors have come to expect persistent year-over-year growth for iPhone, especially as Apple pushes deeper into a burgeoning Chinese market, but it remains to be seen whether or not this year's "s" update was enough to drive yet another record-breaking quarter.
In a somewhat ironic turn, Piper Jaffray analyst Gene Munster surfaced as the voice of reason when he cautioned investors against taking action based on supply chain heresay. Munster's advisory echoes comments made by Apple CEO Tim Cook, who on numerous occasions said it is extremely difficult to extrapolate meaning form supply chain data, even if the information is correct.
"The supply chain is very complex, and we obviously have multiple sources for things," Cook said in a 2013 earnings call. "Even if a particular data point were factual, it would be impossible to interpret that data point as to what it meant for our business."
Apple introduced a number of new products this year, but more importantly entered new product categories. Apple Watch served as the company's first foray into wearables, while Apple Music leveraged Apple's considerable influence in digital music to competitor music streaming services. The fourth-generation Apple TV with its tvOS and dedicated App Store also stood out as evidence that Apple is making a serious play for the living room. Together, these new devices and platforms have the potential to pump significant capital into current revenue streams.
Looking ahead, Apple is expected to update iPhone, iPad, Mac and Apple Watch product lines in 2016.