App Store reached estimated $6.4 billion of Apple's revenue during 2015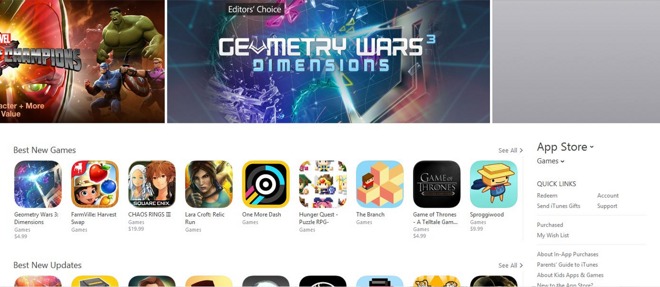 AppleInsider may earn an affiliate commission on purchases made through links on our site.
After payments to developers, Apple's revenue share from the App Store during calendar 2015 was approximately $6.4 billion, according to a new analyst estimate.
"Appsumers continue to be highly engaged in the App Store ecosystem which is a long term positive for the company's future products, in our opinion," commented J.P. Morgan's Rod Hall in a memo obtained by AppleInsider.
The figure is based on an Apple annoucement from Wednesday, in which the company revealed that the public had spent $1.1 billion at the App Store in a two-week period covering Christmas and New Year's. Jan. 1 was reportedly the biggest single day in the App Store's history, with over $144 million in traffic.
Apple takes 30 percent of the revenue from App Store purchases, including in-app transactions, which would indicate that a far larger sum was distributed among third-party publishers and developers.
While the App Store is a relatively minor source of income for Apple — the J.P. Morgan estimate is less than a fifth of what Apple generated from iPhone sales in the September quarter alone — strong app sales are essential to the company's health. It depends on apps as a reason for people to buy iOS devices.
People who buy iOS apps are also more likely to be "locked" into the Apple ecosystem, since they would suddenly lose that content after switching to Android or Windows.