Apple publishes first comprehensive list of CarPlay-compatible vehicles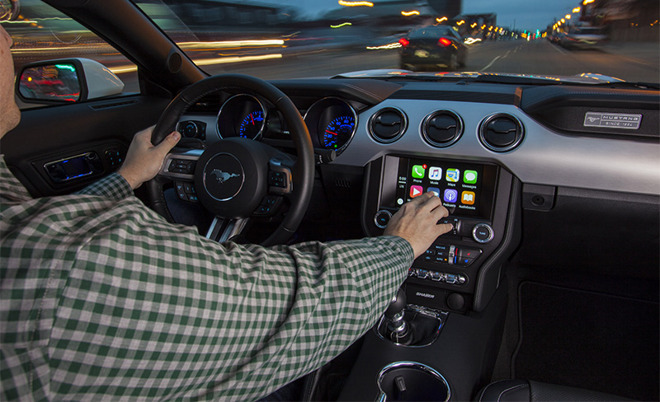 Having finally accumulated a large enough stable of partners for the platform, Apple on Monday published an official list of current and (some) future vehicles compatible with CarPlay.
The list includes automakers from around the world. While many may be familiar to U.S. drivers — such as Audi, Chevrolet, Ford, Honda, and Volkswagen — others have minimal or zero American presence, such as Citroën, DS Automobiles, Seat, and Å koda.
Until today the only indication of vehicle support on Apple's website was a graphic with various brand logos, telling users nothing about which individual models were compatible.
Apple first debuted CarPlay in March 2014. The platform had low support until mid-2015 however, and is still picking up major partners. Only later this year, for example, will Dodge, Chrysler, and Jeep vehicles get support.
As of Jan. 11, Apple's full list includes:
Audi
Buick
Cadillac
2016 ATS
2016 ATS Coupe
2016 ATS-V
2016 ELR
2016 CTS
2016 CTS-V
2016 XTS
2016 Escalade
2016 Escalade ESV
2016 CT6
Chevrolet
2016 Spark
2016 Cruze
2016 Malibu
2016 Camaro
2016 Camaro Convertible
2016 Silverado
2016 Silverado HD
2016 Impala
2016 Volt
2016 Corvette
2016 Corvette Convertible
2016 Colorado
2016 Tahoe
2016 Suburban
Citroën
2016 C3
2016 C4
2016 C5
2016 Berlingo Multispace
DS Automobiles
2016 DS 3
2016 DS 3 Cabrio
2016 DS 4
2016 DS 5
Ferrari
2016 California T
2016 488 Spider
2016 488 GTB
2016 F12 Berlinetta
2016 F12 tdf
2016 FF
Ford
GMC
2016 Canyon
2016 Yukon
2016 Yukon XL
2016 Sierra
Honda
2016 Accord
2016 Civic
2017 NSX
Hyundai
Mercedes
2016 A-Class
2016 B-Class
2016 GLE-Class
2016 CLA-Class
2016 CLS-Class
2016 E-Class Coupe
2016 E-Class Cabriolet
2016 GLA-Class
Mitsubishi
Opel
2016 Adam
2016 KARL
2016 Corsa
2016 Astra
2016 Insignia
Porsche
Peugeot
2016 208
2016 Partner Teepe
Seat
2016 Ibiza
2016 Leon
2016 Toledo
2016 Alhambra
Å koda
2016 Superb
2016 Fabia
2016 Rapid
2016 Octavia
2016 Yeti
Suzuki
2016 Baleno
2016 Vitara
2016 SX4 S-CROSS
2016 Ciaz
Volkswagen
2016 Jetta
2016 Passat
2016 CC
2016 Beetle
2016 Beetle Cabrio
2016 Golf
2016 GTI
2016 Golf R
2016 e-Golf
2016 Tiguan
2016 Golf SportWagen
2016 Fox
2016 Polo
2016 Scirocco
2016 Sharan
2016 Spacefox
2016 Touran
2016 Lamando
Volvo