Twitter brings Periscope video streams into iOS users' timelines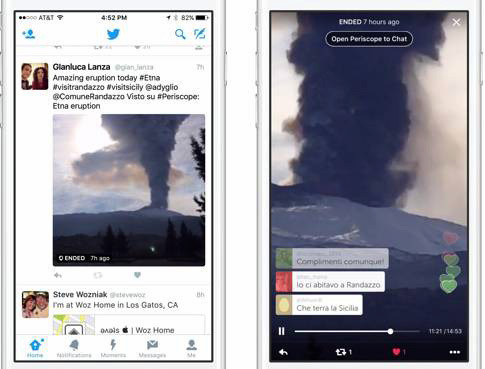 People using the Twitter iOS app can now see Periscope video feeds embedded in tweets, instead of having to switch to the separate Periscope app, Twitter announced on Tuesday.
The feature should eventually expand to Android and the Web, but for now is an iOS exclusive, Twitter said. Tweets can contain both live broadcasts and replays, although as usual, links will cease to be relevant after the replay expires.
People can also expand videos to fullscreen, and see any comments and hearts submitted by fellow viewers. To get involved personally, Twitter users will still have to switch to the dedicated Periscope app.
The change should help introduce Periscope to a much larger section of the Twitter audience. While sharing on Twitter is an integral part of the service, until today the app simply posted a URL along with a custom description.
It should also give an edge over Meerkat, a third-party competitor which originally beat Twitter/Periscope to the punch on Twitter-based live streaming but has been cut out of the same level of intergration.
iOS is often the first platform social networks target when rolling out new features, presumably because of its uniformity and its popularity, especially among U.S. developers. Facebook, for instance, made its iPhone app the first place people could see "Music Stories" with integrated content from services like iTunes and Spotify.