Users of Microsoft's 'free' Windows 10 find unexpected ads on lock screen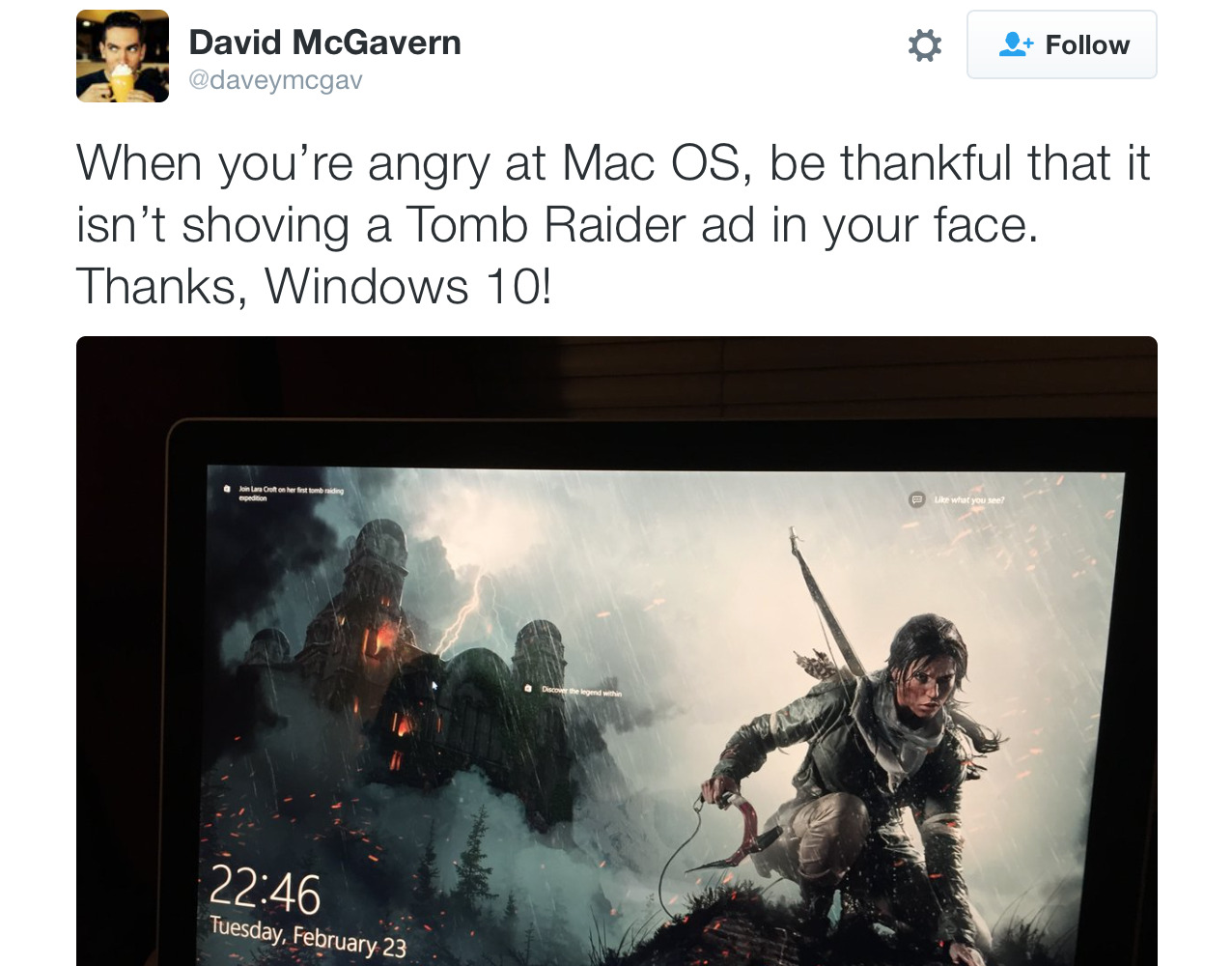 Microsoft recently began running advertisements directly on the lock screens of Windows 10 devices, catching users by surprise with marketing on their PCs and tablets.
A full-screen ad featuring video game heroine Lara Croft began appearing on Windows 10 lock screens this week, inviting users to "Discover the legend within." Gamers are encouraged to purchase the new title "Rise of the Tomb Raider" from Microsoft's Windows Store.
Some users also took to Twitter back in January to complain about advertisements for the "Minions" movie appearing on their Windows 10 lock screen. The ad featured the titular characters rowing a boat across New York City's East River, complete with multiple links to the Windows Store to buy the hit film.
Though many users don't realize it, Microsoft's "free" Windows 10 operating system is configured by default to display such ads on the lock screen whenever the Redmond, Wash., software company decides to do so.
Those running Windows 10 can disable the ads by opening Settings, choosing "Personalization," and then "Lock screen." Once there, uncheck the box for "Get fun facts, tips, tricks and more on your lock screen."
While Microsoft might characterize its lock screen promotions as "fun," users online expressed a very different reaction.
"@Microsoft - my OS is not your ad delivery system," Twitter user Kendall Miller wrote in January.
Windows 10 launched last year as a free upgrade for all Windows 7 and Windows 8 users. The lure of a no-cost update helped propel Windows 10 to installs on more than 200 million devices by the start of 2016.
Apple's OS X upgrades have been free since 2013 with the release of OS X 10.9 Mavericks. The Mac maker has been awarded patents for ad-supported operating system concepts, but publicly has never shown any inclination to make such a drastic change to its product strategy.