Apple TV adds new app categories, advertises Tim Cook's ABC interview in tvOS App Store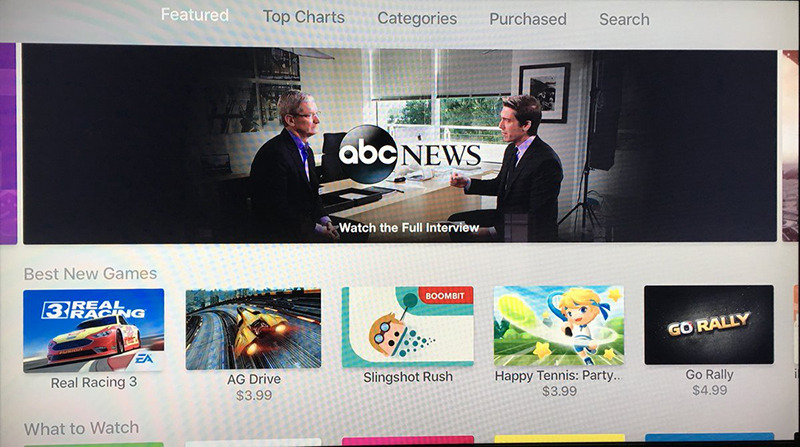 As part of continued efforts to build out the nascent tvOS platform, Apple on Thursday flipped the switch on new Apple TV App Store categories, while touting CEO Tim Cook's recent interview with ABC concerning the company's legal fight against FBI data decryption requests.
First spotted by AfterPad, the new App Store categories offer users a more comprehensive browsing experience by aggregating a quickly growing tvOS content ecosystem into manageable chunks. The ability to surface new, popular apps has proven a boon for developers marketing their wares in the iOS and OS X App Stores, and the same is expected with Apple TV.
A complete list of Apple TV's new App Store categories:
Business Apps
Weather Apps
Utilities
Travel Apps
Social Networking Apps
Reference Apps
Productivity Apps
Music Apps
Finance Apps
Book Apps
Medical Apps
Catalogs
Apple first activated App Store categories in November shortly after launching the fourth-generation Apple TV.
Also new to the Apple TV App Store is a splash screen advertising Cook's recent interview with ABC News. Positioned in the top spot under Featured, the clickable banner links to a download of the free ABC News app and sports a picture of Cook speaking with anchor David Muir, with text reading, "Watch the Full Interview."
The segment, which aired yesterday, saw Cook speak at length about the implications of an FBI request that would compel Apple to help unlock an iPhone 5c used by San Bernardino shooter Syed Rizwan Farook. Summing up Apple's stance on creating a workaround to existing iOS encryption technology, Cook said, "The only way we know to get additional information is to write a piece of software that is the software equivalent of cancer. That is what is at stake here."