Apple flies original Mac team's pirate flag for company's 40th anniversary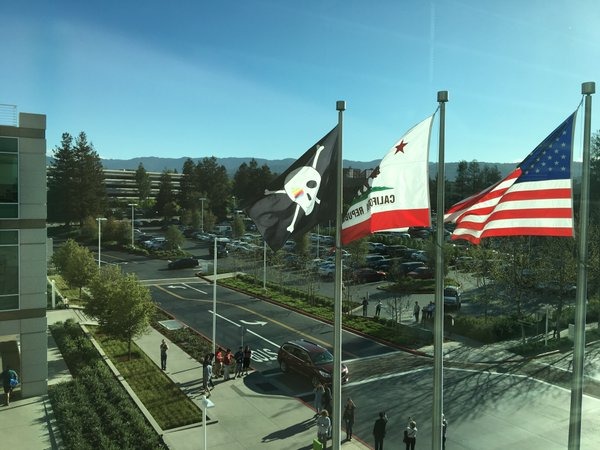 Marking the 40th anniversary of the company's founding, Apple on Friday flew a pirate flag over its Cupertino headquarters, in a tribute to the first-generation Macintosh team headed by company co-founder Steve Jobs.
The flag resembles a stereotypical pirate flag, with the notable difference of a rainbow Apple "eyepatch." It was originally hoisted by the Mac team in 1983, sewn together by programmer Steve Capps with an emblem painted by graphic designer Susan Kare.
The gesture was a reference to a quote by Jobs, "It's better to be a pirate than join the navy," and also marked the Mac team's arrival in a new office building.
Apple first began celebrating its 40th at its March 21 press event, where it showed a tribute video, "40 Years in 40 Seconds." CEO Tim Cook also noted that it would probably be the last event held at its current headquarters Town Hall, since the company is hoping to move into its giant "Campus 2" space in early 2017. That facility includes a much larger 1,000-seat theater.
Apple periodically changes the flags flying over its headquarters, sometimes for variety, more rarely to send a message. It has, for instance, raised a Pride flag to show its backing for LGBT causes — Cook himself has participated in the San Francisco Pride Parade.