9.7" iPad Pro teardown finds 12.9" model's tech crammed into smaller, less repairable package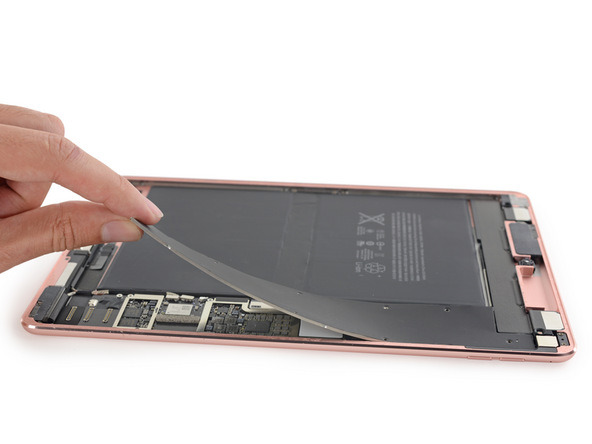 In order to compress technology from the 12.9-inch iPad Pro into a 9.7-inch form factor, Apple had to make some significant internal design changes, a teardown of Apple's new flagship tablet reveals.
Whereas a significant amount of the space in the 12.9-inch Pro is taken up by four speaker enclosures, the 9.7-inch model fits those speakers in at the margins, iFixit noted. Instead, most of the new tablet's space is consumed by its 27.91 watt-hour battery, slightly better than the 27.62 watt-hours of the iPad Air but much less than the 38.8 watt-hours of the 12.9-inch Pro.
Other elements have been rearranged, such as display cables. The tablet is additionally said to use more glue to keep parts together — in fact more than in any other iPad so far, making the tablet extremely difficult to repair. Its battery further lacks convenient pull tabs that are not only in the 12.9-inch Pro, but every current iPhone.
The LCD and the front panel glass are fused together, which simplifies opening, but increases the cost of any screen repair, as well as the risk of damaging the LCD when prying the tablet apart.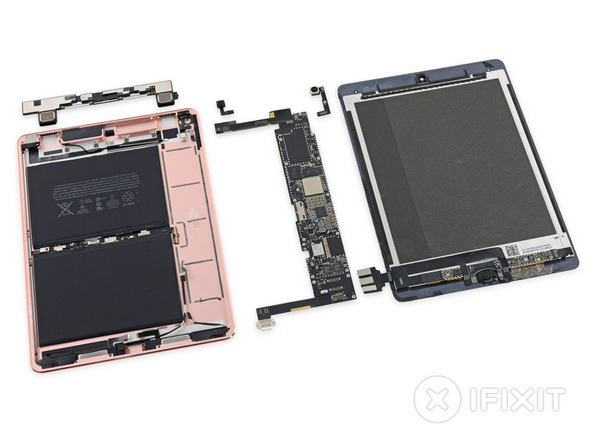 Chips found in the product are said to include the likes of Samsung RAM, NAND storage by SK Hynix, wireless modules from Apple and Broadcom, and an NXP-made NFC controller.
The 9.7-inch Pro launched on March 31. While sharing some features of its 12.9-inch sibling — like four speakers, a Smart Connector, Apple Pencil support, and an A9X processor — the new product makes additional upgrades, including a color-shifting True Tone display and a 12-megapixel rear camera, complete with flash. It does, however, downgrade to 2 gigabytes of RAM, putting that spec on par with the iPad Air 2.