Apple expands iPhone Upgrade Program to include online purchases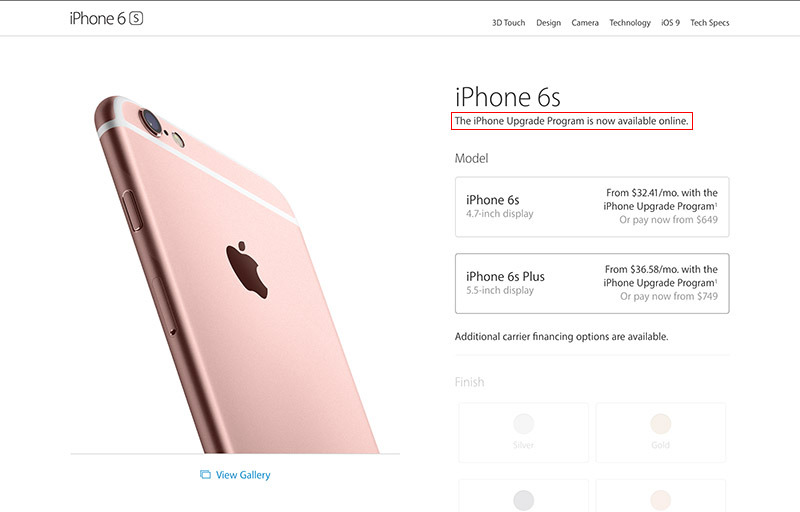 As of Monday, customers looking to purchase a new iPhone 6s or 6s Plus through Apple's website can take advantage of the company's iPhone Upgrade Program, an interest-free, two-year payment plan that lets buyers trade up to a new handset each year.
The change in availability comes more than seven months after Apple debuted the annual retail price plan alongside iPhone 6s last year, which weeks later launched in brick-and-mortar Apple Stores as a way to soften iPhone's comparatively high device cost.
Under the plan's terms, buyers can pay as little as $32.41 per month in return for a brand new, unlocked iPhone 6s with AppleCare+ warranty coverage. After completing 12 monthly installments, customers have the option of trading in their handset for a next-generation model at no additional fee. Pricing is dependent on model and storage capacity. The iPhone Upgrade Program is limited to Apple's flagship iPhones, currently the iPhone 6s and 6s Plus.
In January, preliminary data suggested the upgrade initiative helped spur some 250,000 iPhone unit sales during the busy holiday quarter. Citizen's Financial Group, the loan partner backing Apple's program, in December announced financing of $220 million in iPhone purchases, which Piper Jaffray estimated to be worth a quarter-million handsets. At the time, analyst Gene Munster said the figure likely accounted for between 3 to 5 percent of all iPhone 6s units purchased through Apple Stores.
AppleInsider broke down the numbers and found Apple's iPhone Upgrade Program to be an exceedingly good deal for customers who protect their device through AppleCare+ and need the latest-and-greatest smartphone hardware.