Rumored 'iPhone 7 Plus' schematic shows dual-lens camera & Smart Connector, lacks headphone jack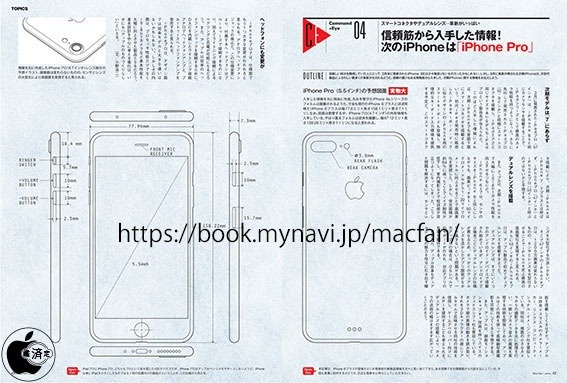 The rumored design of Apple's next-generation iPhone appears to be taking shape thanks to continued leaks out of the Far East, which are now consistently showing a new design with a larger, still protruding camera lens, a Smart Connector port, and the absence of a 3.5-millimeter headphone jack.
The schematic allegedly for Apple's 5.5-inch "iPhone 7 Plus" was published in the June issue of Japan's Mac Fan magazine. A scan of the article and accompanying images was shared on Wednesday by Macotakara.
The illustrations show a wider, oval-shaped space where the camera lens would go. This supports rumors that the next iPhone will feature a dual-lens design for even greater picture quality.
On the back, toward the bottom of the device, the handset is also shown to feature a Smart Connector port. AppleInsider detailed earlier this week how newly revealed charging capabilities with the iPad Pro Smart Connector could come to the next iPhone, and allow users to charge the device and use Lightning-connected headphones simultaneously.
Once again, the schematic shows an "iPhone 7" design without a 3.5-millimeter headphone jack at the bottom of the device. Multiple leaks have reaffirmed that Apple apparently plans to ditch the legacy headphone jack with this year's iPhone, apparently leaving users to connect headphones through the Lightning port or via Bluetooth.
Finally, the details on the schematics describe a device with the exact same screen size as the 5.5-inch iPhone 6s Plus, suggesting the display will remain identical to the current flagship model.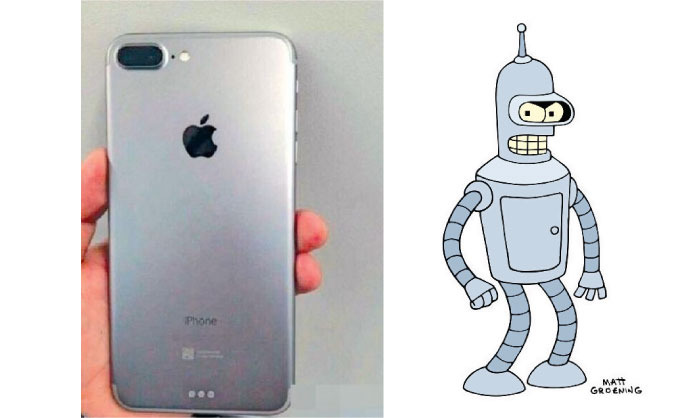 The schematics shown in the image are also identical to a purported "iPhone 7" casing that leaked online last month. It shows a dual-camera design that some have said bears similarities to the character Bender from the cartoon Futurama.
Like the schematics, the leaked casing also showed a Smart Connector port on the back, above where the Lightning port would be. The alleged iPhone shell also lacked antenna lines on the back, which were instead shown just around the perimeter of the top and bottom of the handset.
The number of leaks with the same design would lend strong support to the possibility that they show the device Apple is expected to unveil later this year. Apple is rumored to take the wraps off of the "iPhone 7" in September.