Samsung reports Q1 mobile profits just 24% of Apple's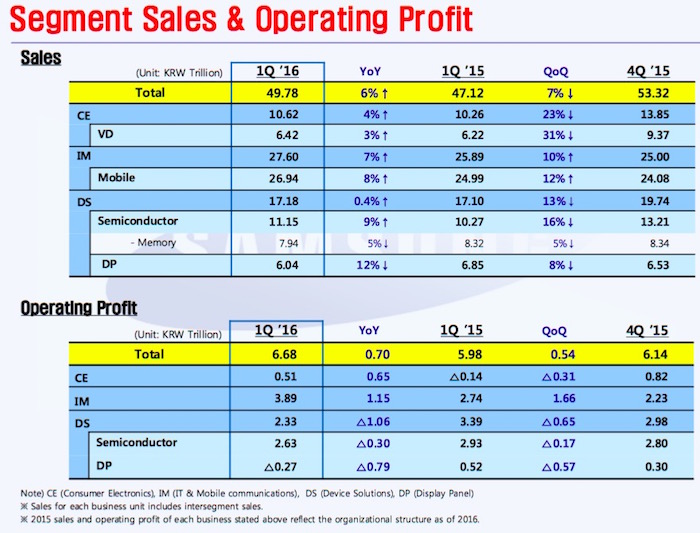 Samsung Electronics reported Q1 operating profits of 6.68 trillion won ($5.81 billion), while its Mobile division reported 3.89 trillion won ($3.38 billion) in profits, both a fraction of the "disappointing" $13.987 billion in operating profits Apple reported for the same quarter.
Just 58 percent of Samsung profits in the quarter came from its IT & Mobile Communications (IM) group, which is roughly comparable to Apple's operations. Other divisions of Samsung Electronics include its CE group that sells TVs and appliances and its DS division that includes sales of display panels, semiconductors and memory components.
At the beginning of 2014, IM was contributing 70 percent of the company's profits, primarily from smartphone sales— specifically from sales of its higher end Galaxy S and Note devices.
Peak Galaxy: 2013
In 2014, Apple's release of iPhone 6 gutted Samsung's profit center, resulting in a 73.9 percent drop in the Korean giant's mobile profits over the previous year.
Since then, Samsung has struggled to make progress back toward its former profitability in smartphones. Overall profits are just 68 percent of what the company had earned two years ago in Q2 2014, and the company's smartphones contributed significantly less of that.
Despite selling 60% more more phones, Samsung IM earns 24% of Apple's operating profits
Apple's overall operating profits for the quarter were $13.987 billion, down 23.5 percent over the year ago quarter. However, despite a decline in iPhone sales in the March quarter (as well as a decline in iPads and a decline in Macs), Samsung IM is still only earning 24 percent of Apple's profits, despite shipping 81.9 million handsets compared to Apple's 51.2 million iPhones.
Samsung's outlook for the June quarter warned of flat demand for smartphones and tablet, "amid weak seasonality," noting a focus on global expansion of S7 sales and maintaining solid profitability of mid to low-end products.
Throughout the rest of 2016, Samsung told investors to "expect smartphone demand growth to slow YoY, while tablet demand to decrease YoY."
Samsung IM is Apple's most profitable competitor, and is by far the largest manufacturer of smartphones.