Alleged 'iPhone 7' production plates, schematics show no sign of Smart Connector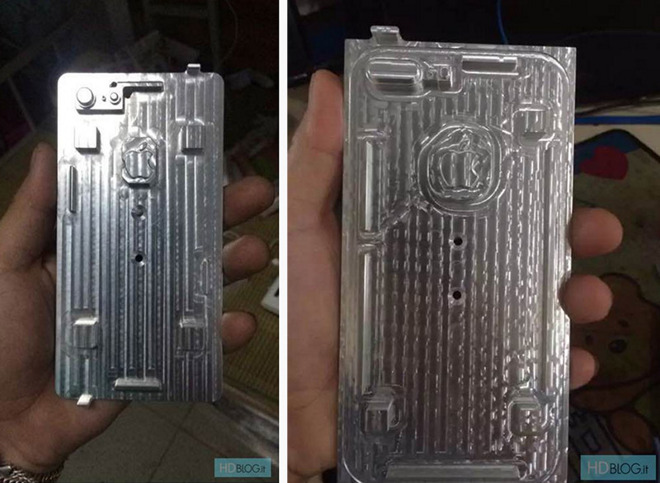 AppleInsider may earn an affiliate commission on purchases made through links on our site.
Adding to a growing pile of supposed parts leaks, a set of images posted to the web on Monday suggest Apple's upcoming "iPhone 7" series will indeed sport a larger rear camera aperture, as well as a dual-camera array for the larger "Plus" model, but might ship without a Smart Connector as previous rumors claimed.
The photos, supposedly sourced from a Chinese Apple supplier and subsequently uploaded to website Baidu, provide a close look at what is believed to be CNC machining plates employed as part of the finishing process applied to iPhone's aluminum chassis, reports HDBlog. A pair of schematics showing tooling dimensions was also shared.
Two separate tools can be seen in the provided images, one for a 4.7-inch iPhone and another for a larger 5.5-inch model. Of note, the smaller version appears to include a larger aperture to fit what is assumed to be an upgraded iSight camera module, a design modification from Apple's current iPhone 6s lineup first seen in a purported parts leak earlier today.
A pill-shaped opening on the larger plate points to a dual-camera setup that seemingly includes smaller holes for Apple's True Tone flash module and a single microphone. Rumors that the next-generation iPhone would incorporate two rear-facing camera sensors kicked off in January when KGI analyst Ming-Chi Kuo issued a note predicting the special array would be marketed as a "Plus" model differentiator.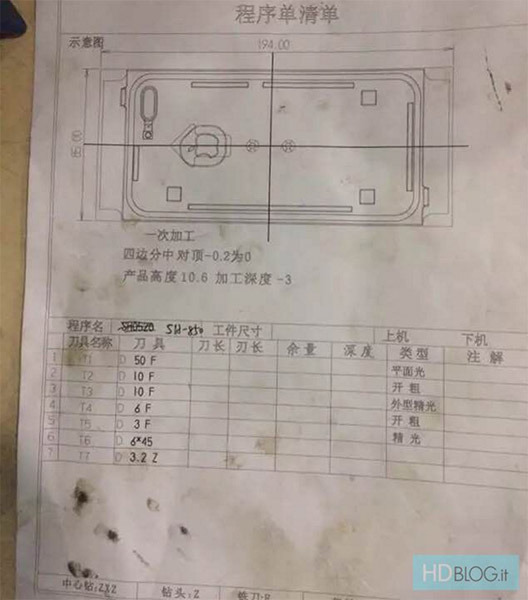 Not seen in the batch of photos is reference to Apple's Smart Connector, though it should be noted that the telltale three-hole port might be part of a later stage manufacturing process. Introduced with iPad Pro, Apple's proprietary connection protocol popped up in a supposedly leaked chassis prototype in April, and again in a schematic this month.
Industry analysts and insiders are narrowing down their predictions for "iPhone 7" as September quickly approaches. Most rumormongers agree that Apple is planning to introduce a dual-camera setup on at least one of its next-gen handset models, specifically the 5.5-inch flagship, as a way to differentiate beyond screen size. While the exact arrangement has yet to be disclosed, the inclusion of two separate lenses allows for greater camera system flexibility.