Rumor: Samsung to double down on fitness with Gear Fit 2 and 'Bio-Processor'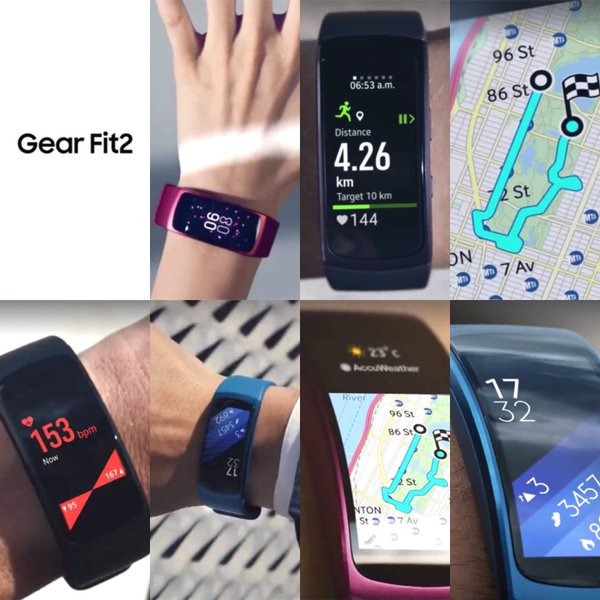 Images leaked on Monday showed Samsung's upcoming Gear Fit 2, a device that may provide tougher competition in fitness wearables for companies like Apple and Fitbit.
The new device includes a wider display than the original Fit, according to photos discovered by SamMobile. This should allow it to show much more information onscreen, in a style akin to full-scale smartwatches like the Apple Watch, or some higher-end fitness trackers.
Two of the photos in fact show a map view tracing a run, which could indicate the Fit 2 will have built-in GPS, or at least be able to tap into a smartphone's GPS to similar effect. Only expensive top-end fitness trackers tend to come with built-in GPS, as a rule.
Earlier rumors have suggested the Fit 2 will have a 1.84-inch AMOLED display, 4 gigabytes of storage, a heartrate monitor, and a graphics processor embedded into its CPU. The device may also sport Samsung's "Bio-Processor," intended to improve the general accuracy of fitness tracking.
The gapless construction of the Fit 2 could hint that it will be waterproof. While many wearables are water-resistant, like the Watch and the earlier Fit, relatively few are actually waterproof and hence safe to take swimming or in the shower.
The new device is expected to launch in June. Although Apple is hosting its Worldwide Developers Conference that month, there's no indication — yet — that the company will have any sort of "reply" to Samsung, whether in terms of new Watch hardware or a watchOS update.