Apple SVPs Schiller and Federighi discuss Siri, Messages and more in Q&A session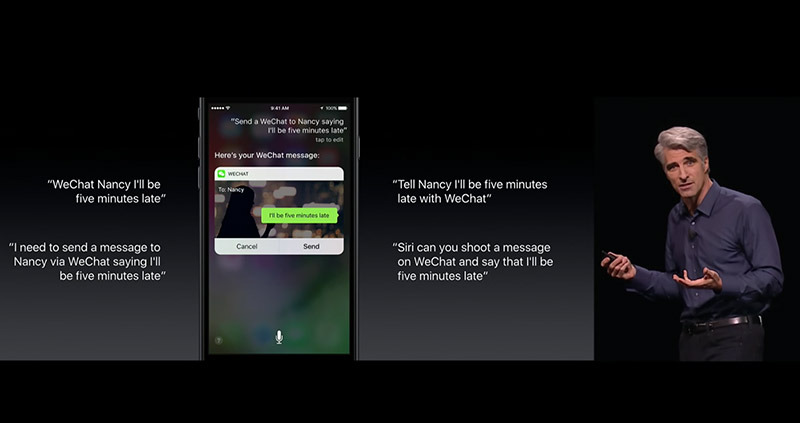 Apple executives Phil Schiller and Craig Federighi on Tuesday took part in a casual interview to discuss the many software and services enhancements revealed at this week's Worldwide Developers Conference.
At a live taping of John Gruber's Daring Fireball podcast "The Talk Show," marketing chief Schiller said this year's WWDC announcements illustrate Apple's focus on delivering a solid foundation for developers. Through app extensions, APIs and SDKs, Apple offers a lattice onto which developers can build.
Siri is a good example of the company's approach. During yesterday's keynote SVP of Software Engineering Federighi announced a third-party Siri SDK, opening the door to powerful voice recognition and artificial intelligence technologies.
There are a few caveats, however. Most notably, integration will be restricted to a handful of app categories well within Siri's current capabilities, like messaging, payments, ride booking, photo search and workouts.
Federighi said the decision to limit access follows Apple's mantra of offering customers only the best user experience. Additional app categories will of course be added as the program progresses and Siri gains an understanding of new domains, he said.
In one of the more interesting tidbits to come out of Tuesday's interview, Federighi explained first-party app "deletion" in iOS 10 is a misnomer. When the mobile operating system debuts this fall users will be able to remove unwanted or rarely used Apple apps from their home screens and delete associated data, but the software binaries technically remain a part of iOS. Thus, it might be more accurate to say users will be able to hide apps in iOS 10.
Considering the amount of time Apple spent detailing new Messages enhancements during Monday's keynote it perhaps comes as no surprise that the topic came up in Tuesday's Q&A. The company knows iPhone users spend the most time in Messages, which is why it was given the most onstage time, the executives said. Federighi joked that developers were more excited about emojis additions than the new Apple File System. Third-party app integration, support for transactions, all-new effects and support for transactions are among the many notable features coming to Messages in iOS 10.
Schiller and Federighi's wide roving interview also covered concerns about the Mac App Store, sentiment regarding Apple's place in the artificial intelligence arms race, app subscriptions and differential privacy, among other topics.
The show was streamed live and a replay should be available for download on Gruber's site soon.