Apple Pay gains support from 44 new US banks and credit unions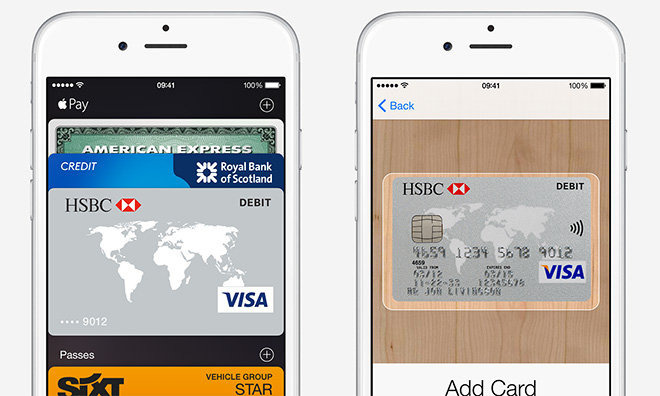 As part of continued efforts to build out its Apple Pay payments platform, Apple on Tuesday announced support for 44 new bank and credit unions serving U.S. customers.
Like last month's round of Apple Pay additions, today's buildout includes a number of medium size financial institutions, many of which are regional credit unions and small banks. The additions were announced through Apple's running list of Apple Pay providers.
Acadia Federal Credit Union
Bank7
Catholic Vantage Financial Federal Credit Union
Citizens BankCity State Bank
Comenity Capital Bank
Commercial Bank
Commodore Perry Federal Credit Union
Conservation Employees' Credit Union
Crane Credit Union
Element Federal Credit Union
FNB New Mexico
Health Care Family Credit Union
Heritage Federal Credit Union
Honor Credit Union
IH Mississippi Valley Credit Union
Indiana State University Federal Credit Union
Integra First Federal Credit Union
Jersey Shore State Bank
Luzerne Bank
Mabrey Bank
Meadows Bank
Mendo Lake Credit Union
Meridia Community Credit Union
Metro Federal Credit Union
Pendleton Community Bank
People First Federal Credit Union
Peoples Bank (OH)
Phoenixville Federal Bank & Trust
Premier Bank (NE)
Premier Bank Rochester
Randolph Savings Bank
Red Crown Credit Union
Roanoke Valley Community Federal Credit Union
Schneider Community Credit Union
Stamford Federal Credit Union
The Citizens Bank of Logan
The County Federal Credit Union
The Farmers National Bank of Canfield
The Farmers State Bank
The People's Federal Credit Union
The PrivateBank
Truxton Trust
Wright-Patt Credit Union
Apple at WWDC 2016 announced a major initiative that will bring Apple Pay transactions to the web, a highly anticipated feature that puts the in-house payments service in competition with industry leader PayPal. The company also revealed plans for upcoming rollouts in France, Hong Kong and Switzerland.
Most recently, Bank of America began rolling out support for cardless ATM withdrawals at select locations in California.