Inside watchOS 3: Apple Watch app in iOS 10 lets you browse & customize watch faces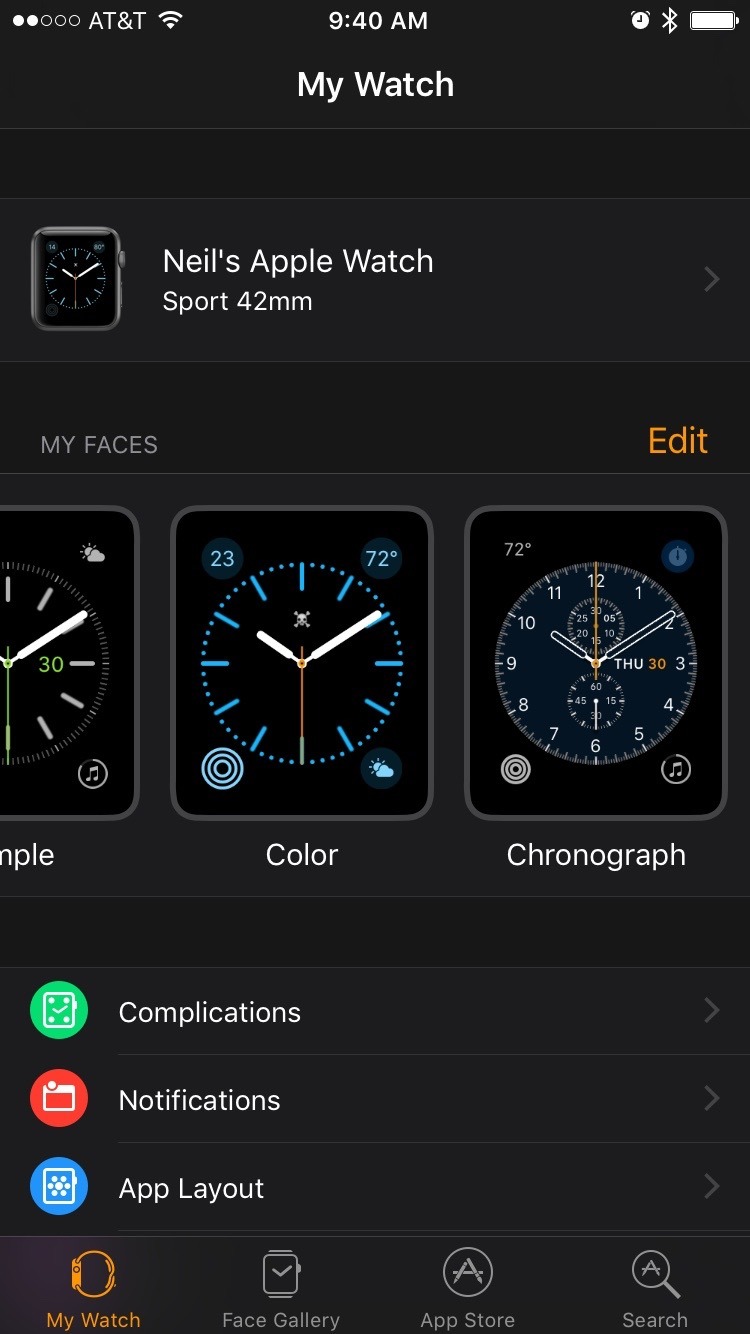 One key new feature in watchOS 3 comes in tandem with iOS 10, allowing users to view, add and edit watch faces to their liking with more screen real estate, via the Apple Watch app on an iPhone.
After updating their Apple Watch to watchOS 3 and iPhone to iOS 10, users will find a pair of new features in the official Apple Watch app related to watch faces. First, under the "My Watch" tab, is a new menu called "My Faces" that displays all watch faces currently enabled on the device.
Users can scroll through their watch faces, or tap an "Edit" button to rearrange their order or remove them.
Tapping on a watch face brings up all of the customization options available, including color, detail, and complications. With the chronograph watch face, users can customize the timescale to their liking, while the timelapse watch face allows users to select a location.
Below the settings for each watch face are options to set the selection as the current watch face, or to remove the watch face. On the Apple Watch itself, switching between faces is also simplified with new edge swipe gestures on the left and right side of the display.
The addition of "My Faces" to the Apple Watch app for iPhone makes it much easier to customize the look of the device, offering a much larger display to view and select different options.
In what could prove to be a precursor for a full-fledged watch face app store, the Apple Watch app in iOS 10 has also added a new "Face Gallery" tab. Here, users can view all of the available watch face options, and preview the different combinations of settings before adding it to the Apple Watch.
Each face in the gallery comes with a text description describing their look and feel, as well as some of the ideas that went into their creation. The four new watch faces found in watchOS 3 — activity digital, numerals, Minnie Mouse and activity analog — Â are also spotlighted in their own section.
Below that, the rest of the watch faces in the gallery presented with their own sections. Within those, users can scroll through different configurations of each face. From there, simply select one, customize it to your liking, and hit the "Add" button to install it directly on the Apple Watch.
"My Faces" and the "Face Gallery" require both watchOS 3 and iOS 10, both of which are currently available to developers for pre-release beta testing. A public beta is scheduled to begin in July, and both watchOS 3 and iOS 10 will launch to the public this fall.
For more, see AppleInsider's Inside watchOS 3 series, parts of which are included below: