New alleged 'iPhone 7' pictures surface, show installed Apple test software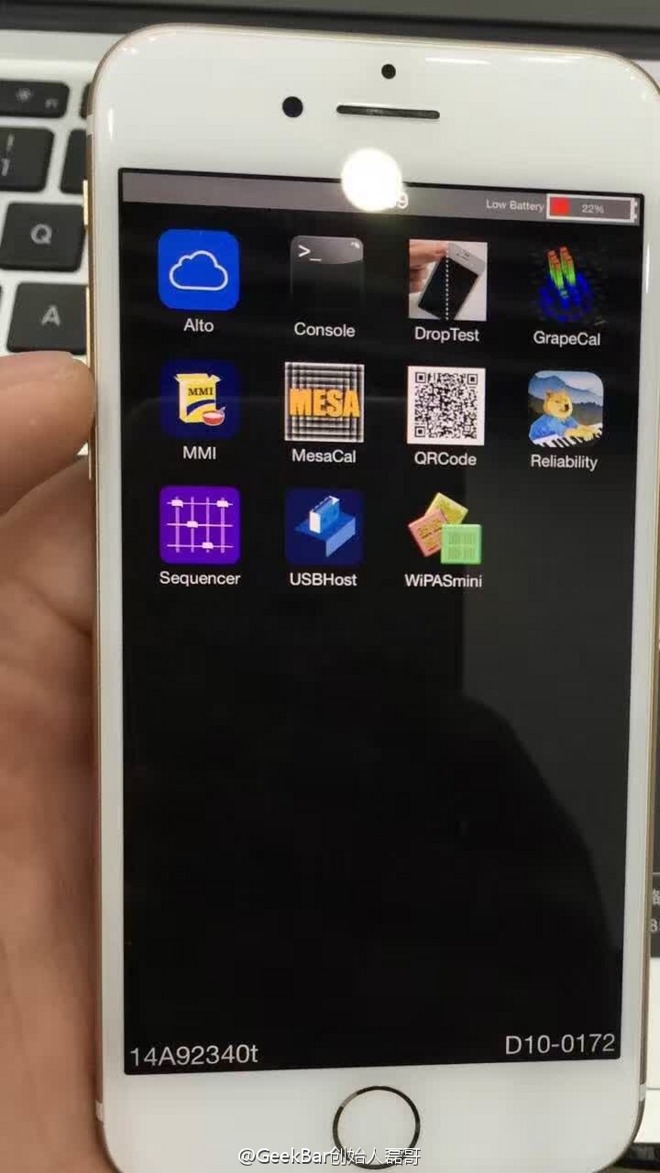 AppleInsider may earn an affiliate commission on purchases made through links on our site.
New pictures have appeared of a fully assembled "iPhone 7," with the shots showing a functional device that may have Apple's hardware pre-release "Switchboard" toolset installed.
According to French source nowhereelse, the pictures come from a China-based team that specializes in the repair of mobile devices. Some applications are shown on the display such as the radio transmitting and receiving tester "WiPASmini," as well as "MesaCal" which is used for testing Touch ID.
Both applications are associated with Apple's "Switchboard" pre-release testing suite, which appears on consumer devices by accident from time to time.
An iOS build of 14A92340t is displayed on the screen. The current build number in the iOS 10 beta 4 is 14A5322e, with a known build number for the iOS 8-based version of Switchboard of 12A93650o.
The presented OS build does not correspond to consumer iOS builds, but does appears to line up with an iOS 10-associated version of Switchboard, given that the first two digits in the build number increment by one every time a full release of iOS is being tested.
The images show a certain lack of attention to detail on the rear printing. The Apple logo embossed on the back of the case is indistinct in the lower left corner, and the fuzziness does not appear to be graphical compression artifacts or focus problems.
Additionally, the "iPhone" text on the back doesn't seem to be registered well, with similar haziness, not attributable to the deliberate obscuring of the smaller text below the branding clearly done by the picture's supplier.
There are no physical details in the new picture set that differs from previous renderings or mockups already revealed. The camera protrusion on the new pictures lines up with everything already seen, and the headphone jack is still absent.
Apple is expected to unveil its next-generation iPhone in September, in line with its usual annual release schedule. One rumor has suggested that preorders for the device could begin on Sept. 9, ahead of an official launch a few weeks later.