Alleged 'iPhone 7' series specs could detail Apple's next-gen cameras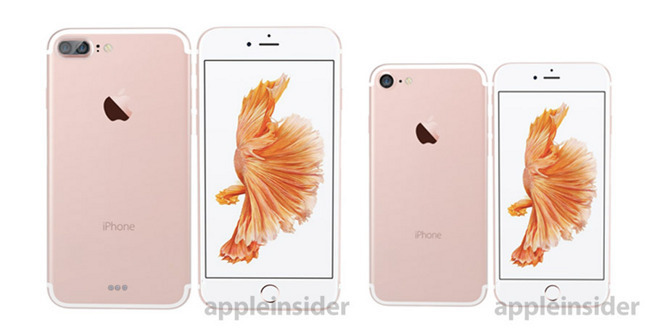 An iPhone spec leaker has shed some information on the forthcoming "iPhone 7" release, reiterating some figures that have been suspected for some time — and possibly exposing specific camera details for the first time.
According to the leak, the new "iPhone 7" and "iPhone 7 Plus" retain the same screen resolution of the iPhone 6 and iPhone 6 Plus. The processor on both new models is pegged as the A10, coupled with the M10 motiuon processor.
RAM on the smaller "iPhone 7" is said to be 2 gigabytes of LPDDR4, with 3 gigabytes on the "iPhone 7 Plus." The battery is said to be boosted on both, with a 1960 mAh battery on the "iPhone 7," and a 2910 mAh battery on the "iPhone 7 Plus."
The camera on the "iPhone 7" is said to be a 12-megapixel unit, with a 1/2.6" sensor (versus 1/3" on the iPhone 6s), ƒ/1.9 aperture (versus 2.2), and 1.3 µm pixels.
The dual-lens camera often rumored for the "iPhone 7 Plus" is seemingly confirmed, with a pair of 12-megapixel cameras, each said to have a 1/3" sensor, and a ƒ/1.9 aperture. The leaker declined to give specifications for pixel size.
The leaker broadcast the information Chinese microblogging service Weibo, and is said to have been generally accurate with specification leaks in the past by Techtastic.
Previous rumors have labeled the fall 2016 iPhone as both a "iPhone 7" and "iPhone 6 SE," with the latter rumor seemingly reinforced by packaging leaks of questionable accuracy on Wednesday..
The new "iPhone 7" is expected to be slightly thinner design than the iPhone 6 family, made possible by removing the analog headphone jack. The larger 5.5-inch "Plus" variant has been said for some time to feature a dual-lens camera design, and 3GB of application RAM.