Apple's iOS 10 on one-third of compatible devices after 6 days, report says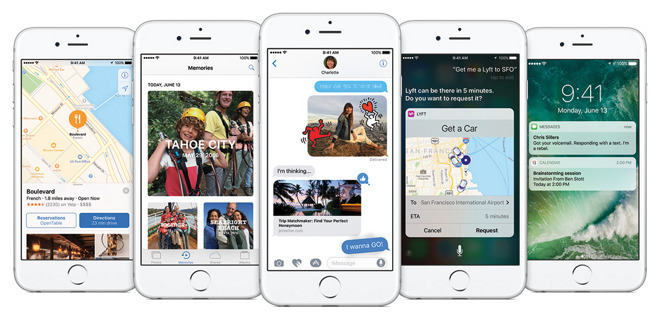 After only six days of availability, Apple's latest mobile operating system iteration, iOS 10, is already on one-third of Apple devices tracked by analytics firm Mixpanel.
While Apple has yet to announce official adoption numbers, Mixpanel shows iOS 10 tracking at 33.64 percent of Apple devices, up from an initial figure of 14 percent measured 24 hours after last week's launch.
As expected, iOS 10's uptick comes at the cost of iOS 9 share, with 61.5 percent of devices still running Apple's last-generation operating system as of Sunday. Those running OS versions older than iOS 9 are also upgrading, as the number of tracked legacy users fell from 5.42 percent last week to 4.86 percent.
Though impressive, iOS 10 adoption is slower than last year's record-breaking conversion rates. In 2015, Apple saw iOS 9 installed on more than 50 percent of all compatible iPhones, iPads and iPod touch units in only four days.
Apple's iOS 10 debuted last week with user interface enhancements and feature additions to Messages, Maps, Siri, Photos, Apple Music, News, and more. The free update is available now through the Software Update function in the iOS Settings app.