Newly launched iPhone 7 lineup already tracked at 3.6% of all Apple handsets in use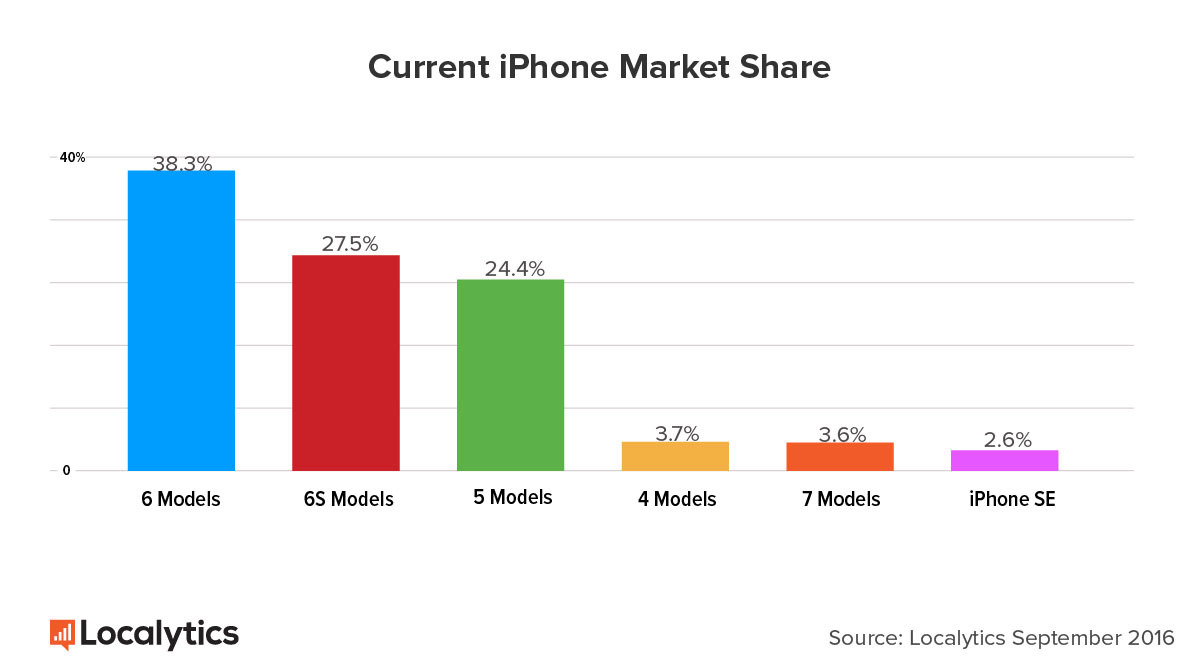 After just a few weeks on the market, Apple's new flagship iPhone 7 series is already more popular than the iPhone SE, and is on the cusp of overtaking the iPhone 4 and 4s lineup, new data reveals.
Localytics tracked iPhone usage rates two weeks after the debut of the iPhone 7, and its data places the iPhone 7 and iPhone 7 Plus at a 3.6 percent share of all Apple handsets in use. That's enough to put it ahead of the iPhone SE, which was tracked at a 2.6 percent share.
As orders are filled and adoption grows, the iPhone 7 will quickly overtake the iPhone 4 and iPhone 4s, which collectively account for 3.7 percent of iPhones in use.
It will take some more time for the iPhone 7 lineup to surpass the iPhone 5 and iPhone 5s, which still account for an estimated 24.4 percent of active iPhones in the wild. Just beyond that is the year-old iPhone 6s lineup, estimated to account for 27.5 percent.
Apple's leader remains the iPhone 6, which Localytics says represents 38.3 percent of all iPhones in active use.
Unlike in years past, Apple this year did not disclose launch sales for the iPhone 7, stating that sales are limited by the company's ability to produce handsets, not consumer demand. Launch sales for the iPhone 7 will be included in Apple's September quarterly earnings report, which will be disclosed on Thursday, Oct. 27, though sales of specific models are not revealed.