Apple to reveal fiscal Q4 2016 earnings on Oct. 27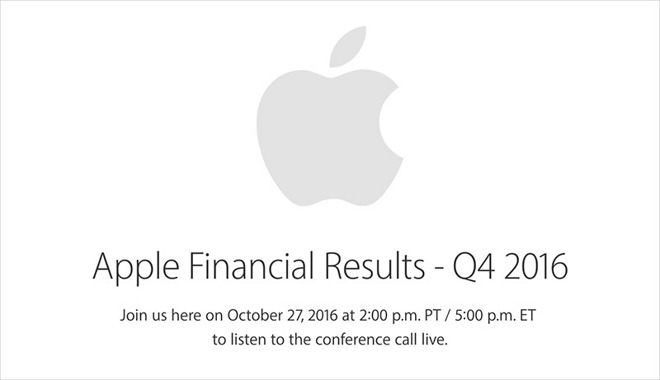 AppleInsider may earn an affiliate commission on purchases made through links on our site.
Apple on Monday announced it will report quarterly earnings for the fourth fiscal quarter of 2016 on Oct. 27, to be followed by a live-streamed conference call on Apple's investor website.
The company posted details of the upcoming live stream on Investor Relations webpage earlier today, saying live stream kicks off on Thursday, Oct. 27 at 2 p.m. Pacific, 5 p.m. Eastern. As usual, CEO Tim Cook and CFO Luca Maestri are expected to attend the conference call.
For the three-month period ending in September, Apple is looking to stabilize the first-ever contraction in iPhone demand dating back to the April quarter. During the most recent fiscal quarter, the company shored up financials breakwaters on the back of iPhone SE, a device credited in part with wooing the highest level of iPhone switchers in company history. Other hardware segments helped make up for lost iPhone growth, with iPad seeing its best result year-over-year compare in ten quarters.
In addition, Apple's services segment continued to expand last quarter, with revenue from offerings like Apple Music, iCloud, iTunes and the various App Stores up 19 percent from the same time last year. Speaking to investors in quarter three, Cook said he expects services to be the size of a Fortune 100 company by 2017.
Apple is guiding for revenue between $45.5 billion and $47.5 billion, and gross margin between 37.5 percent and 38 percent for the fourth quarter of 2016. Operating expenses are expected to fall between $6.05 billion and $6.15 billion, with other income of $350 million. The company expects a tax rate of 25.5 percent.
Early analyst consensus sees an uptick in iPhone orders leading into the lucrative holiday season, though KGI analyst Ming-Chi Kuo believes the recently released iPhone 7 will not perform as well as iPhone 6s. Supply constraints are partially to blame, as consumers appear to be leaning toward iPhone 7 Plus and jet black models, both of which are suffering from long manufacturing lead times.
AppleInsider will be cover Apple's conference call for the fourth fiscal quarter of 2016 live on Thursday, Oct. 27, starting at 2 p.m. Pacific, 5 p.m. Eastern.