'Spoken Editions' section makes official debut on Apple's iTunes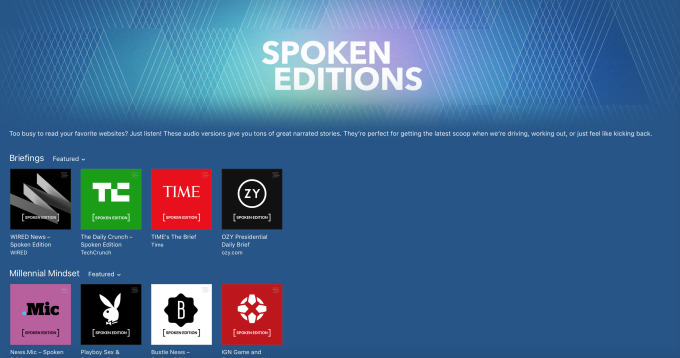 Following a false start in September, Apple on Monday launched an expected "Spoken Editions" section on the iTunes Store, letting people hear audio versions of written content from online publishers.
The section currently includes articles from over 40 sources, such as Reuters, Wired, IGN, Jezebel, Playboy, and the Huffington Post. People can also access the material from Apple's dedicated Podcasts app.
For help, Apple has turned to a company called SpokenLayer, which converts RSS feeds into audio recordings and assigns each publication its own "voice," TechCrunch reported. Stories can also include advertising, ensuring that publishers don't lose out on profits.
SpokenLayer said it expects to produce hundreds of episodes per week.
Although Spoken Editions may help Apple in general, the company might also want the material for its rumored Amazon Echo competitor. The Echo — and other devices with Amazon's Alexa assistant — can read out news summaries from different content sources, and Apple would need the same to match features.