Investors buoyed by report claiming Apple, Disney are potential Netflix buyers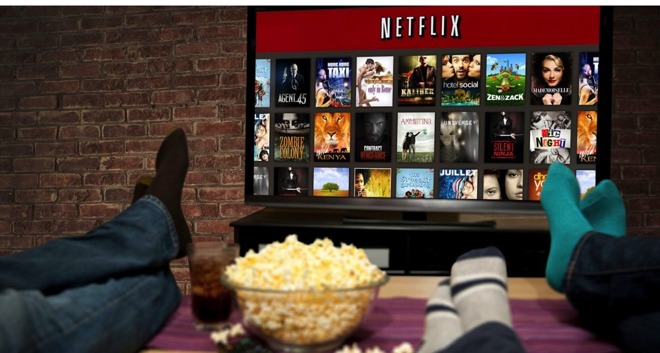 AppleInsider may earn an affiliate commission on purchases made through links on our site.
Hot on the heels of rumors that Disney was investigating buying social media platform Twitter, now Netflix is said to under scrutiny by Disney and possibly Apple for a buyout bid, allowing either company to greatly expand on media delivery to cord-cutters.
According to R.W. Baird financial analyst William Power, and reported initially by MarketWatch, Netflix has been the subject of heated merger and acquisition discussions as of late, saying that "whether Disney, Apple or someone else, Netflix could become a target."
Disney currently holds a 30 percent share in streaming venue Hulu, having teamed up with Fox, NBC, Time Warner, and Comcast for the effort.
"What Disney has to think about is what is its place in a post cord-cutting world," said institutional investment Monness Crespi Hardt & Co.'s James Cakmak regarding reports that Disney would buy Twitter. "They are investing in technology for distribution — and this would give them the platform to reach audiences around the world."
Netflix generated $7 billion in revenue in the last fiscal year. Disney created $52 billion in revenue over the same time period, with Apple pulling down around $234 billion.
Since news of a potential suitor for Netflix broke, the stock price for the company is up 3.5%. With little else tangible to go on but rumors by analysts of a buyout investigation, it remains possible that the report is an attempt at stock manipulation by Wall Street analysts.
Apple's video intentions are murky
In an interview in July, Apple's senior VP of Internet Software Eddy Cue stated that the company wasn't interested in becoming a Netflix competitor.
"We're not in the business of trying to create TV shows," said Cue. "We're not trying to compete with Netflix or compete with Comcast."
In the same interview, Cue said that Apple was more interested in building the platform for delivering content more than anything else.
Rumors in 2015 and the beginning of 2016 strongly suggested that Apple was working on its own cord-cutting service for television. The program died on the vine, however, with reports circulating that Apple's aggressive tactics in negotiating deals were the major impediment to the effort.
However, Netflix has a commanding lead in the streaming video which could jumpstart Apple's efforts in the market, holding over 37 percent of the internet's U.S. traffic in 2015. Apple's iTunes accounted for 3 percent of peak download traffic in 2015, finishing in a multi-way tie for fourth place with Amazon Video, BitTorrent, Hulu, and Facebook.