Apple to reportedly integrate AR features into Camera app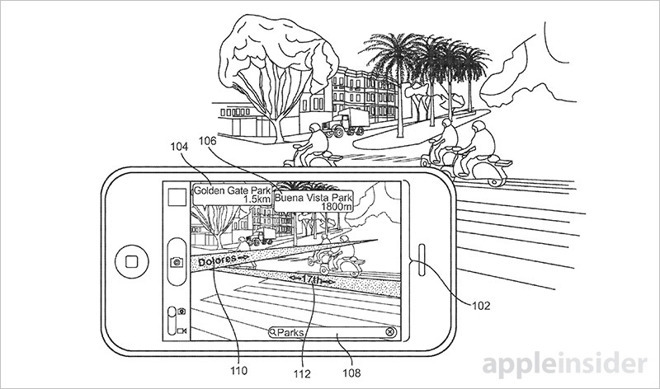 Adding to rumors of Apple's augmented reality ambitions, a report on Wednesday claims the company is working to bring unspecified AR features to its first-party camera app on iPhone.
Citing a single source, Business Insider reports Apple is looking to integrate limited AR functionality into the iOS Camera app. The project is said to involve new hires and technology from recent acquisitions in the AR/VR space.
Though details are sparse, the report claims Apple's goal is to implement technology that will allow iPhone to recognize real-world objects. Object recognition is an important step toward realizing a working AR system. Modern AR solutions use imaging technology to overlay interactive information onto the physical world, a process that in some cases requires creating a digital map of a user's surroundings.
The report goes on to say Apple's AR implementation might be capable of recognizing and manipulating people's faces, a feature made popular by Snapchat. Facial recognition is already active in the iOS 10 Photos app, which employs the technology for picture management.
Once AR features roll out in the Camera app, Apple plans to make the technology available to developers through iOS APIs, the source said. The process would be similar to once closed APIs like Touch ID, and more recently Siri.
Today's news comes on the heels of a report claiming Apple is working on a pair of smart glasses that could support AR functionality. Early indications suggest the project in its current form is merely a heads-up display along the lines of an advanced Google Glass device.
Whether the secret wearable initiative will progress to integrate augmented reality features remains unknown, though a recent hire hints at a product much more ambitious than a simple HUD.
According to his LinkedIn profile page, self-professed head-worn display specialist John Border joined Apple in September as a "senior optics manufacturing exploration engineer." Border is also an expert in plastic optics manufacturing, camera systems and image sensors, all necessities in creating a viable AR platform. Prior to taking a position at Apple, Border served as chief engineer at San Francisco-based Osterhout Design Group, a small firm that developed and markets AR-infused smart glasses.
Apple is known to be working on augmented reality solutions, though it is unclear in what form factor that product will arrive. CEO Tim Cook first confirmed Apple's interest in AR during a quarterly investors conference call in July, and has since reiterated the company's bullish stance on the budding technology on multiple occasions.
Beyond a growing pile of AR/VR patents, including IP covering an AR mapping system for iPhone granted last week, Apple has built out a team of industry specialists through strategic hires and segment acquisitions. Last year, the company purchased motion capture specialist Faceshift, machine learning and computer vision startup Perceptio and German AR firm Metaio and former Google collaborator Flyby Media.