ACCC draft determination denies Australian banks' bid to bargain or boycott Apple Pay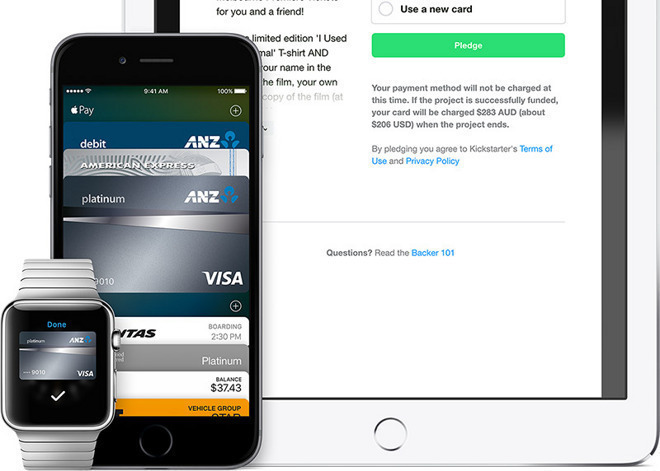 In a draft determination issued on Tuesday local Australia time, the Australian Competition and Consumer Commission denied the country's big-three banks authorization to collectively negotiate access to Apple Pay NFC technology.
The "finely balanced" ACCC determination speaks to the future of digital wallets in Australia and follows months of back-and-forth arguments between the country's "big three" banks and Apple.
Today's proposal denies an application to negotiate terms regarding Apple Pay deployment and services lodged by the Commonwealth Bank of Australia, National Australia Bank and Westpac Banking Corp, along with Bendigo and Adelaide Bank, in July.
A number of contingencies were included in that request to bargain, chief among them being access to iPhone's NFC controller. With access to vital communications hardware the banks would be able to field their own digital wallet systems on iPhone devices, a move they argued would bring competition to the space.
In addition, the request asked permission to negotiate a potential removal or modification of restrictions that prohibits financial institutions from passing Apple Pay transaction fees to consumers.
"This is currently a finely balanced decision. The ACCC is not currently satisfied that the likely benefits from the proposed conduct outweigh the likely detriments," said ACCC Chairman Rod Sims. "While the ACCC accepts that the opportunity for the banks to collectively negotiate and boycott would place them in a better bargaining position with Apple, the benefits are currently uncertain and may be limited."
The banks in a statement to AppleInsider promised to work with the ACCC to address issues raised in the draft determination to provide competition and choice for their customers. If the proposal stands, Australian iPhone owners will have only one mobile wallet option — Apple Pay — while the Australian payments industry will be denied the opportunity to innovate and compete with Apple, the banks contend.
"If the draft determination of the Australian competition regulator stands, effectively there will be no competition against Apple for mobile payments on the iPhone," said Lance Blockley, a payments specialist and speaking on behalf of the bank collective. "The application has never been about preventing Apple Pay from coming to Australia or reducing competition between wallets. It has always been about providing consumer choice and innovation."
Backing the banks are filings in support of joint negotiations from various retailers and payments associations dating back to August.
The ACCC complaint was lodged eight months after Apple Pay launched in Australia last November through a limited partnership with American Express. Major bank ANZ was first to break rank and partner with Apple in April.
For its part, Apple called the banks' threatened boycott a detriment to consumer choice that would ultimately hinder mobile wallet adoption and innovation. The banks, Apple says, are looking to stall consumer adoption of Apple Pay and other mobile wallet solutions with onerous authorization stipulations, a process that stifles competition.
While the parties have yet to reach an amicable agreement over Apple Pay, the ACCC notes banks can already offer digital wallet solutions on iPhone without accessing the NFC module, through their own apps with Apple Pay integration, or with the use of NFC tags. Further, banks can choose to offer similar payments services on Google's Android operating system.
Contrary to the banks' argument for negotiations, the Australian antitrust watchdog has determined Apple Pay might actually spur competition in the burgeoning digital payments space.
"Apple Wallet and other non-bank digital wallets could represent a disruptive technology that may increase competition between the banks by making it easier for consumers to switch between card providers and limiting any 'lock in' effect bank digital wallets may cause," Sims said.
The ACCC will continue to accept submissions on its draft determination and is prepared to consult with interested parties as well as applicants. A conference might also be called to hear oral arguments regarding the draft decision. The ACCC expects to reach a final decision in March 2017