Supply chain data suggests Apple slightly cutting iPhone 7 orders, endangering growth forecasts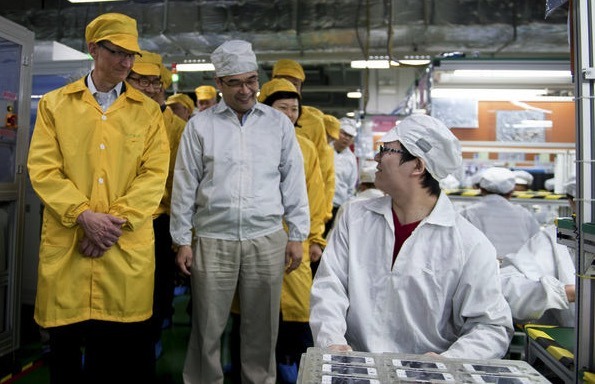 A new supply chain report suggest that Apple may be reigning in build orders for iPhone 7 family of devices, potentially putting some year-over-year growth projections in danger.
A note issued on Tuesday by UBS Global Research, a copy of which was provided to AppleInsider, claims that procurement estimates for the iPhone 7 over the current quarter and next quarter are down.
While analyst Steven Milunovich believes that the Apple's first fiscal year quarter ending in December will still see growth, it is "too soon to make a call" on the following quarter's sales. He believes Apple may be tightening the chain to avoid a glut of stock, like it experienced with the iPhone 6s family.
At present, UBS estimates that production numbers for the quarter ending in December has dropped from 75 million to 74 million units, with March estimates falling to 42 million versus 43 million in 2016. As a result of the iPhone SE being nearly a year in March, average selling prices should remain higher than all but the first quarter of 2016.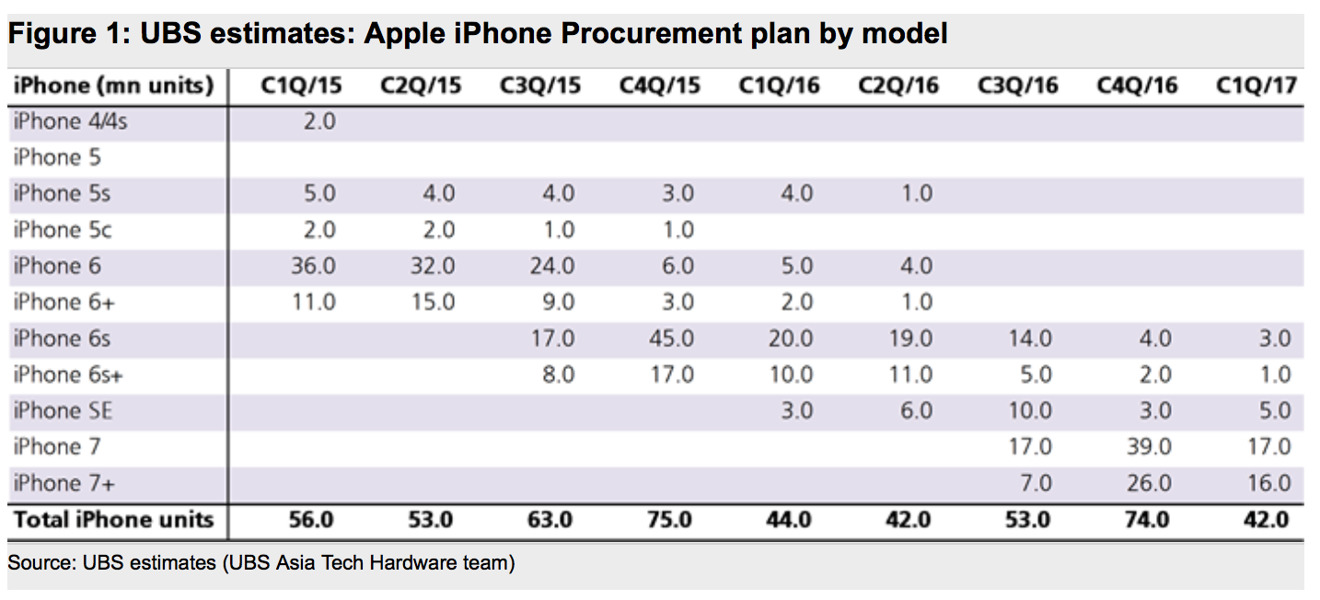 Build orders do not equal sales, however. Apple is estimated to sell 76 million iPhones in the holiday quarter, an increase year-over-year of over one million units.
In other areas of the company, UBS is expecting a 2 percent drop in units sold in the first fiscal quarter of 2017, compared to a year ago, with no change in Mac average selling price to speak of. It is also expecting a 5 percent fall in iPad units versus the holiday quarter a year ago, with an increase of 8 percent in average selling price.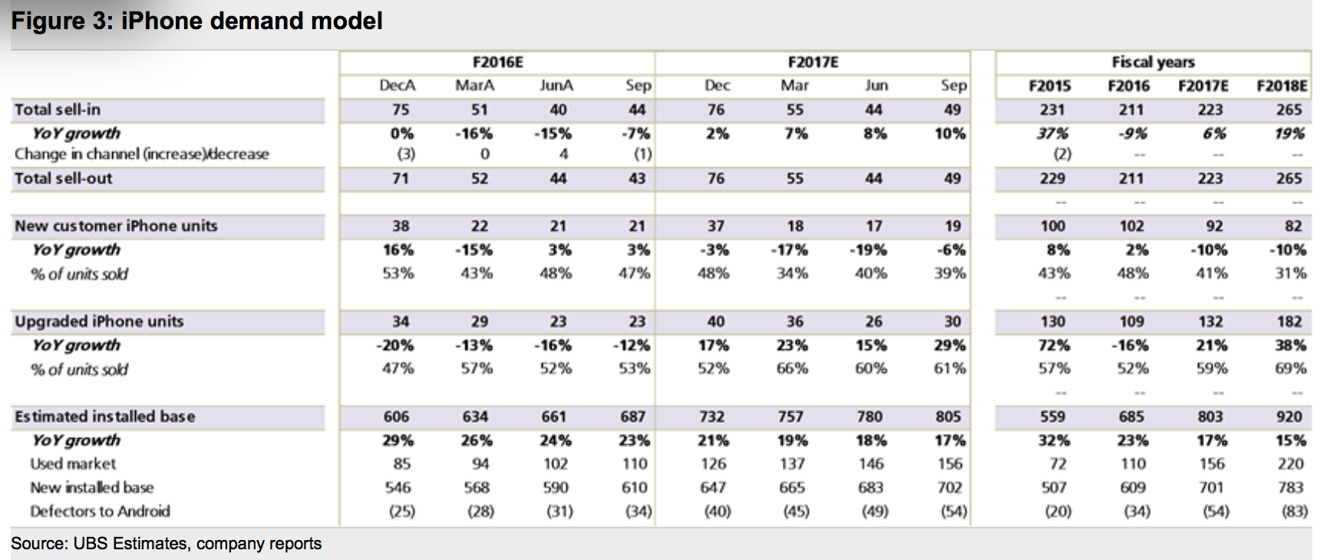 The company retains its view that upgrades will pick up in the end of 2017 and 2018 with a re-design of the iPhone. A possibility of new products "required to excite investors beyond a trade" exists in augmented reality and virtual reality technologies on the distant horizon, according to the analyst firm.
Other perspectives
In September, T-Mobile's CEO and an assortment of South Korean analysts claimed record sales of the Apple iPhone 7 family, with the South Korean analysts expecting 100 million sales of the new iPhone models before the end of the 2016 calendar year.
Other analysts noted shortly after the iPhone 7 launch that negative reports about Apple sales after the first week were impacted by "essentially zero" iPhone 7 Plus models available for weekend sale, with no similar constraints for the launch of the iPhone 6S.
Ming-Chi Kuo of KGI Securities has claimed sales of the iPhone 7 by the end of 2016 would fall between 70 million and 75 million.