Data shows Apple clawing back iPhone share in US, but ceding ground in China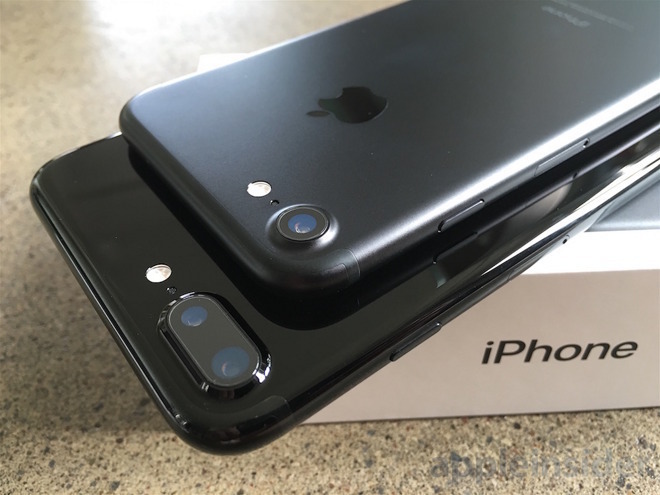 AppleInsider is supported by its audience and may earn commission as an Amazon Associate and affiliate partner on qualifying purchases. These affiliate partnerships do not influence our editorial content.
Apple's iPhone continued to gain more U.S. marketshare towards the end of 2016, according to research data published on Wednesday, but saw setbacks in China, facing tough competition from local and often cheaper alternatives.
Apple advanced 6.4 percent year-over-year in the U.S. during a three-month period ending in November, giving it a 43.5 percent marketshare, Kantar Worldpanel ComTech said, citing sales data. That knocked Google's Android platform back to 55.3 percent of the market, in a sixth consecutive period of decline. A year ago, Android held a 60.4 percent share.
The iPhone 7, 7 Plus, and 6s were reportedly the most popular phones in the country, together accounting for 31.3 percent of sales. Samsung though controlled 28.9 percent, thanks to the Galaxy S7 and S7 Edge. Google's new Pixel phone managed 1.3 percent, said to represent rapid growth.
Kantar's data suggests Apple had the three most popular smartphones in the U.S: The iPhone 7, iPhone 7 Plus, and iPhone 6s.
Apple's share in urban China meanwhile fell from 25.3 percent to 19.9 percent, squaring off against local firms Huawei, Oppo, and Xiaomi. Huawei managed a 25 percent share, though this was actually a decline of 3.1 percentage points from a previous three-month period ending in October. In the same span, Apple advanced 2.8 percentage points thanks to the iPhone 7.
The device in fact became the best-selling Chinese smartphone during the November period, taking 6.6 percent of sales, relegating Oppo's R9 to second place at 4.7 percent.
In the "big five" European markets — Britain, Germany, France, Italy, and Spain — both the iPhone and Android made gains year-over-year, hitting 24.6 and 72.4 percent respectively. This was linked to the decline of Windows phones, which fell to 2.8 percent. Britain was a particular strong point for Apple however, where iPhone share rose 9.1 percentage points.
Kantar also noted that between the October and November periods, Android dipped 2.8 points in Europe while the iPhone made gains because of the iPhone 7.
"The holiday period is always strong for Apple, but it remains to be seen if demand for the latest devices will level out in the first quarter of 2017," wrote a business unit director for Kantar, Dominic Sunnebo.
Indeed Nikkei recently claimed that Apple is cutting its iPhone 7 production orders by 10 percent based on slower-than-expected sales, despite the 7 Plus remaining in high demand. Indeed while Foxconn — which assembles the 7 Plus — saw a revenue uptick in December, standard iPhone 7 manufacturer Pegatron saw its revenues fall dramatically.