Apple CEO Tim Cook sells another $3.6M in company stock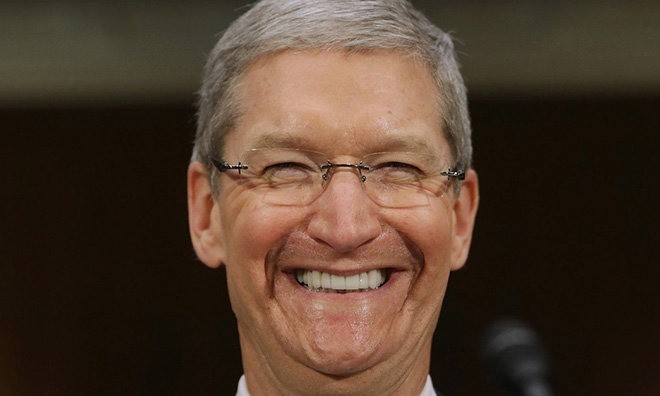 Just days after cashing in a chunk of Apple shares worth $3.6 million, CEO Tim Cook sold another batch worth an almost identical amount in a series of trades this week, according to regulatory filings.
A U.S. Securities and Exchange Commission filing made public on Tuesday reveals Cook sold 30,000 AAPL shares in three equal transactions dated Jan. 20, 23 and 24. Stock prices were set at $120.41 for a batch of 10,000 shares, while the remainder was disposed of at $120. The trades were accomplished as part of a selloff plan disclosed in August 2015.
A relatively small payday for the ranking Apple executive, Cook's recent sales come on the heels of a similar selloff that netted him another $3.6 million last week.
The recent transactions were leveraged from Cook's sizable hoard of AAPL common stock and options. Last August marked Cook's fifth year on the job helming Apple, a period that saw the company grow to become one of the most valuable in the world. That same month, Cook saw 1.26 million restricted stock units — 980,000 time-based RSUs and 280,000 performance-based RSUs — vest as per a compensation package dating back to 2011.
Following today's reported trades, Cook is left with 979,809 shares of Apple worth about $117.6 million.
Earlier this month, Cook was docked $1.5 million in bonus pay as a result of Apple's comparatively poor showing in 2016. With slow iPhone sales, Apple managed net sales of $215.6 billion and operating income of $60 billion, short of target goals set by the company's compensation committee. As a result, top brass like Cook missed out on performance-based cash incentives.
Despite last year's stumble, the Apple chief is due to receive another batch of 700,000 vested RSUs on Aug. 24, 2021, while five 280,000-unit performance-based RSU packages are set to vest in annual installments through 2021.