Supply constraints will limit OLED to just 'iPhone 8,' benefitting Apple in long run - report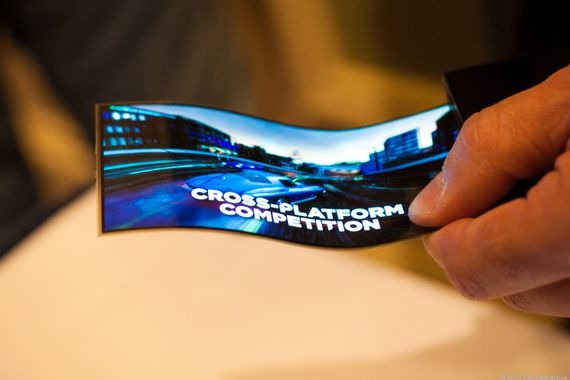 AppleInsider may earn an affiliate commission on purchases made through links on our site.
A new analyst report sheds some doubt on the "super cycle" concept because of a probable limit in OLED screen supply, suggesting that the pent-up demand for a revolutionary iPhone incorporating the flexible screens will only be sated after a few years — which will boost AAPL over the long term.
In an analyst's note penned by Robert Cihra from Guggenheim Securities, and seen by AppleInsider, needed quantities of OLED screens for a full shift to the technology in the "iPhone 7s" and "iPhone 8" won't be met by suppliers only now ramping up for production. As a result, Apple will have to source nearly all of its short-term supply of the screens from Samsung.
Rather than a sea change in iPhone screen technology spanning an entire line in one update, Cihra believes that the technology will be limited to the high-end anniversary "iPhone 8," expected to surface in the fall. As a side-effect, explosive growth in iPhone sales in one year that may have been induced by a screen shift away from LED and towards OLED will be spread over up to 3 years and have a greater effect on stock price over time than it would have had otherwise.
Other than Samsung, there are several vendors of OLED panels. However, at this time, none come close to approaching the volume of the Samsung fabrication plants. Samsung holds the vast majority of OLED technology patents, and in April 2016 held 97.7 percent of the share of the OLED smartphone screen market.
This market dominance is unlikely to be impacted by Apple manufacturing partners any time soon. Apple's long-time iPhone screen supplier Japan Display received a $636 million bailoutand dedicated part of into buying a controlling stake in OLED firm Joled — but when the investment will be productive for Japan Display is not clear.
Apple is also said to be involved in a multiple-year OLED screen delivery contract with Samsung, with a very recent deal for 60 million screens worth $4.3 billion underway, on top of a 100 million screen deal signed in 2016..
Should the OLED shift happen over multiple release years, Cihra expects that there will be a lower than expected 3% gain in iPhone sales from fiscal years 2016 to 2017, growing to an 11 percent gain from 2017 to 2018.
Cihra also sees a net gain in iPhone average selling price, as a result of the slower shift to OLED screens. The effect of more users migrating from older phones with the shift to larger screens in the iPhone 6 family is expected again, with the shift to OLED.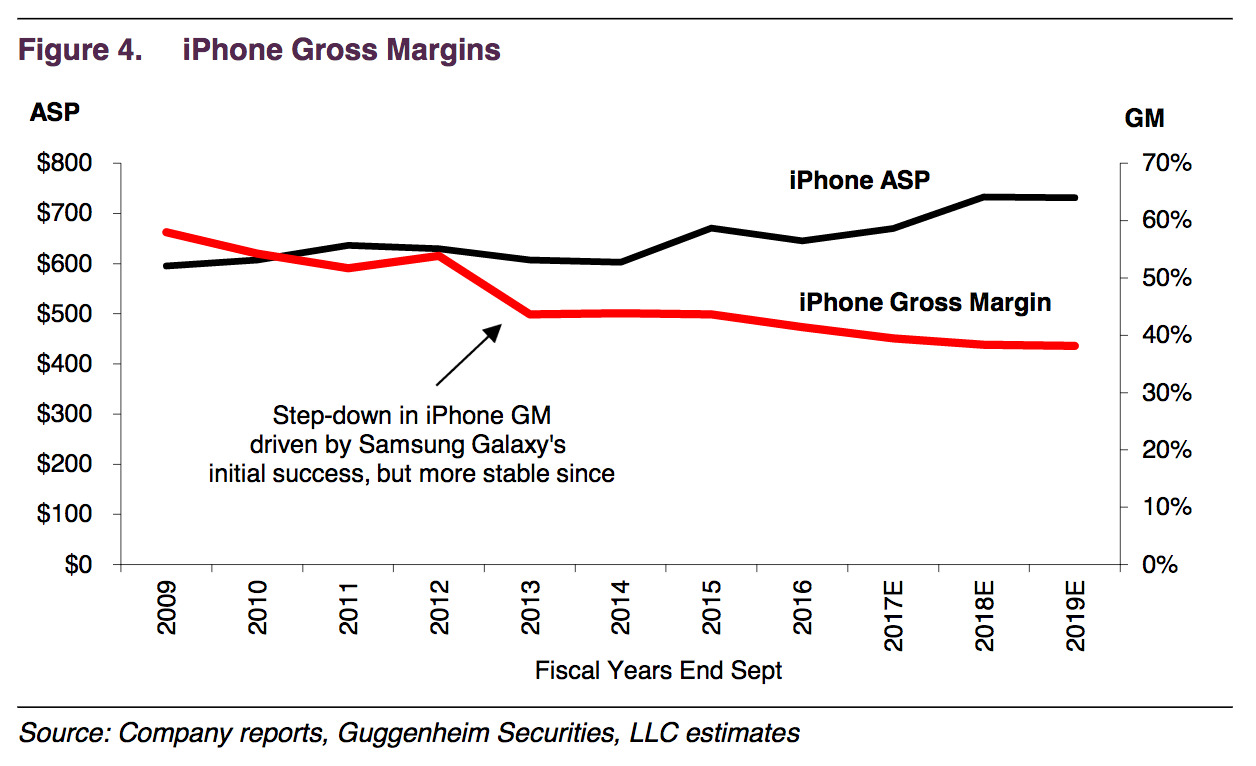 The premium "iPhone 8" could cost more than $1,000. Design features of the "iPhone 8" include a glass back and curved edge-to-edge 5.2-inch OLED display, concealing a Touch ID sensor, 3d facial recognition scanning technology, and FaceTime camera beneath the screen.
Apple is also expected to launch immediate successors to the iPhone 7 at the same time, sized with the same 4.7- and 5.5-inch screens. Reportedly, the "iPhone 7s" family retains LCD display technology.
As a result of all the factors leading up to a longer replacement cycle, Guggenheim's AAPL price target through calendar year 2018 has been raised to $180.