Apple seemingly ends support for 32-bit devices with iOS 10.3.2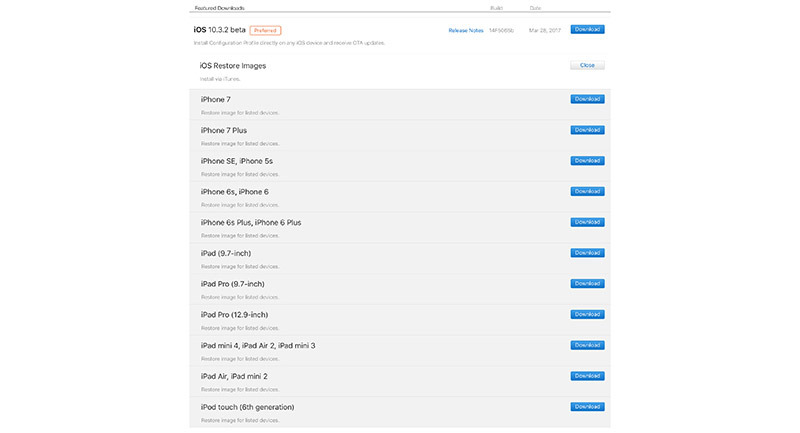 With the release of iOS 10.3.2 beta, Apple is not offering iTunes restore images for 32-bit devices like the iPhone 5 and fourth-generation iPad, suggesting the forthcoming point update will mark a watershed for iOS.
As seen in the screenshot above, taken from Apple's developer downloads webpage, the latest iOS 10.3.2 beta version issued on Tuesday only contains restore images for 64-bit devices. While not a definitive signal that 32-bit devices are on their way out, the lack of such assets suggests Apple is dropping support for older hardware architectures.
As noted by The Apple Post, Apple is not providing restore images for iPhone 5, iPhone 5c or the fourth-gen iPad, all of which were supported by yesterday's iOS 10.3 release. The iPhone 5, 5c and iPad 4 each use a variant of the A6 system-on-chip, the last of Apple's mobile processors built on a 32-bit architecture.
The launch of Apple's A7 SoC with iPhone 5s in 2013 marked the beginning of the end for 32-bit hardware, and consequently 32-bit apps. A year after iPhone 5s debuted, Apple alerted developers of a new App Store policy that required app updates to include 64-bit versions as of June 2015.
Apple continues its push toward an all 64-bit future and last year began warning iOS 10 users that 32-bit apps might negatively impact system performance. More recently, users attempting to open 32-bit software in iOS 10.3 are met with the message, "This app will not work with future versions of iOS," a clear indication that legacy apps are on their way out.
Whether Apple intends to cut off support for 32-bit hardware with the forthcoming iOS 10.3.2 update remains unknown. Since the firmware is still in beta testing, Apple could opt to build in support at a later date.
Anecdotally, it would be a peculiar move for Apple to draw the line and end 32-bit device support with what is considered to be a minor point update. Such an announcement is more likely to take place at this year's Worldwide Developers Conference on June 5, where Apple is expected to detail iOS 11.