Rumor: Apple pushing LG to get into smartphone OLED business for 2018 iPhone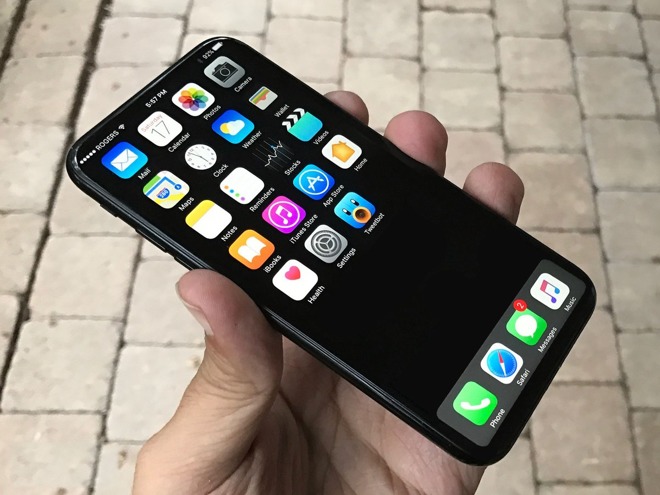 AppleInsider may earn an affiliate commission on purchases made through links on our site.
In an apparent bid to diversify its supply chain and reduce reliance on rival Samsung, Apple is said to be pushing LG Display to enter the small- to medium-sized OLED business, potentially in time for a 2018 iPhone update.
Samsung is currently the largest OLED manufacturer in the world, and is expected to supply all OLED panels for this year's anticipated flagship "iPhone 8." But looking toward 2018, Apple is apparently hoping that LG will get into the OLED business, and has attempted to court the company into competing with Samsung, accord to Business Korea.
LG Display officials are said to be mulling the deal, but have some concerns over the fact that they have no experience in mass production of small- and medium-sized OLEDs. Monday's report was first spotted by OLED-info.
LG is expected to decide by the end of June whether or not they want to accept Apple's bid for iPhone OLED panels. The company is already the sole supplier of OLED displays for the wearable Apple Watch, a device that sells in far fewer quantities than the blockbuster iPhone.
With OLED expected to become the de facto technology for smartphone displays in the years to come, LG has been investing in the technology with new factories expected to open later this year.
The first iPhone expected to feature an OLED panel is this year's flagship high-end "iPhone 8," which is rumored to be a premium-priced 10th anniversary model featuring a number of new technologies. But the transition to OLED technology across the iPhone product lineup is expected to take years, with this year's so-called "iPhone 7s" and "iPhone 7s Plus" rumored to stick with the same LCD displays found in previous models.
It's believed that the switch to OLED will allow Apple to embed key components — including the Touch ID fingerprint sensor — beneath the screen, allowing a true edge-to-edge seamless front panel. OLED displays can also offer battery life savings over traditional LCD displays, because they do not require a backlight for illumination.