App Store price increases mandated by Apple now in effect in EU, with new 0.49 euro tier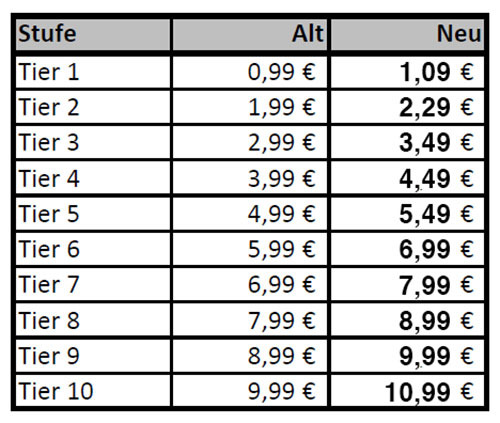 Apple has made good its promises to increase App Store pricing in the European Union, with pricing including a pair of new low-cost tiers in effect since Tuesday morning's refresh.
First spotted by iFun, the price increase on both the macOS and iOS App Stores previously announced on April 28 is not a strict percentage jump in pricing per tier.
Not previously announced, is a new 0.49 euro "alternative price tier A" spotted, and applied to popular iOS platformer "Doodle Jump" and "alternative price tier B" still at 0.99 euro. The alternative tiers were previously available in India and China, and appear to now be extended to the EU as well.
It is not known if the new tiers are permanent, or a temporary promotion.
Similar to Tuesday's increase, in January, Apple increased pricing in the U.K as a result of the "Brexit" vote, as a result of currency devaluation.
"Price tiers on the App Store are set internationally on the basis of several factors, including currency exchange rates, business practices, taxes, and the cost of doing business," Apple said in a statement regarding the U.K price change. "These factors vary from region to region and over time."