Apple's services business alone now the size of a Fortune 100 company, beats out Facebook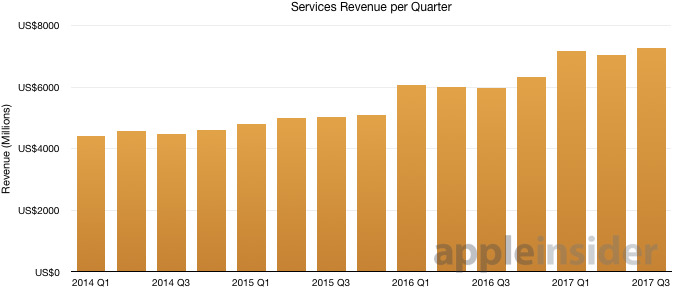 With Tuesday's earnings report, Apple has officially met its projections of its services alone being the equivalent to a Fortune 100 company.
In the third fiscal quarter of 2017, Apple reported $7.27 billion in revenue, up from $7.04 from the last quarter, and $5.98 billion in the year-ago quarter. Apple's services revenue is gleaned from iTunes, iCloud, Apple Music, Apple Pay, Apple Care and the various App Stores.
Apple's last four quarters of service revenue total $27.804 billion. That figure puts it in 97th place ahead of Facebook's entire business at $27.64 billion, and just ahead of Northwestern Mutual's $27.8 billion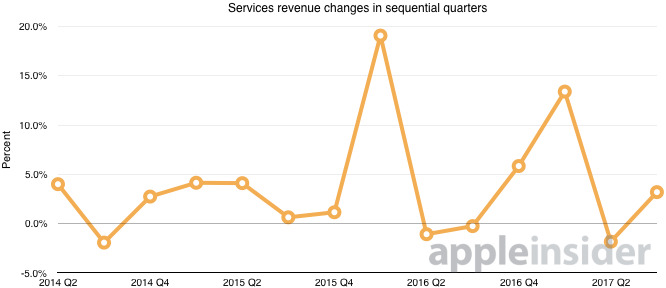 Apple's services business division's income has escalated rapidly along with the company's iPhone sales. In 2016, investment bank Piper Jaffray estimated gross margins on Apple's services business hovered at 60 percent for fiscal 2015, nearly doubling the percentage gleaned from the company's hardware — and there is no indication that the gross margin has decreased.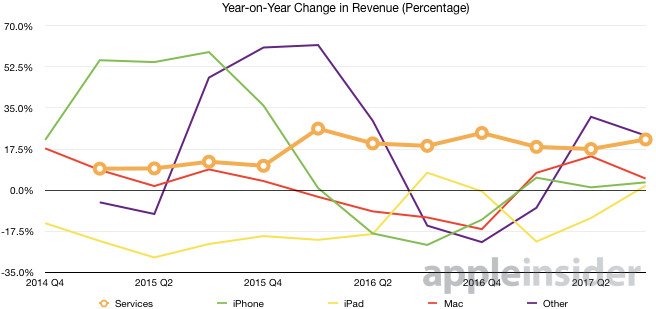 Analysts predict that services revenue is expected to grow 17 percent per year through 2021, with a growth in hardware revenue of 2.4 percent, with a continuation of about 30 percent annual growth in Apple's App Stores per year. One analyst called the App Store which is currently the prime mover of Apple's services revenue "one of the best business models ever created."
The upcoming "super cycle," releases of the "iPhone 7s" and "iPhone 8" this fall, more acquisitions, and other product launches are also seen by analysts as factors that are likely to bolster services revenue growth.