Apple's 'iPhone 8' facial recognition to aid in Apple Pay payments, code suggests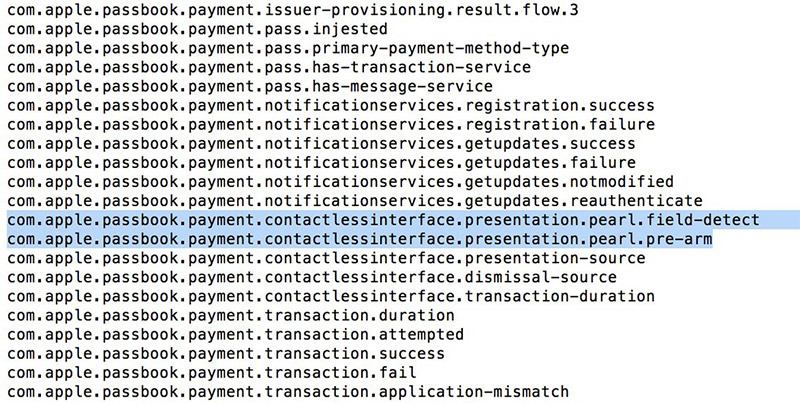 Code discovered in recently leaked HomePod firmware suggests Apple's "iPhone 8" will integrate facial recognition into the Apple Pay process, though it appears the technology will not completely replace physical Touch ID.
Developer Daniel Niyazov in a tweet on Wednesday noted references to "pearl," thought to be Apple's codename for "iPhone 8's" facial recognition feature, show up in leaked code associated with Apple Pay.
Over the weekend, Apple inadvertently released firmware for its upcoming HomePod speaker, revealing a trove of information regarding future products including what is thought to be a next-generation iPhone. Prior investigation of the code connected "pearl" and its various iterations to so-called "FaceDetect" features.
Niyazov conducted a search of the HomePod payload and came up with two particularly interesting "pearl" references. Specifically, the developer found "presentation.pearl.field-detect" and "presentation.pearl.pre-arm" code points in a section of the firmware dedicated to Passbook payments and Apple Pay.
While the exact nature of the pair of code lines is unknown, it seems Apple intends to utilize facial recognition technology as part of the Apple Pay process. In particular, "pearl.field-detect" suggests a method of recognizing when a user's face is within view of the handset's camera, a feature that might facilitate fast access — "pearl.pre-arm" — to the Apple Pay UI.
The code does not, however, imply that Apple is planning to rely solely on FaceDetect technology for Apple Pay authentication. Some have speculated that the company could make the switch to facial recognition with "iPhone 8," ditching Touch ID altogether. Considering Apple's intense approach to security, and considerable investment in Touch ID tech, that scenario is highly unlikely.
Apple's leak of its own software continues to yield the best look yet at the company's unannounced handset. Earlier today, code unearthed from the HomePod firmware release hinted at all new machine learning capabilities that will allow iPhone's camera to recognize objects and scenes in real time. Dubbed SmartCam, the feature is seemingly able to adjust image settings according to detected subjects. Code points include references to babies, fireworks, pets, the sky, snow, sports, a sunset and more.
Apple is expected to release a next-generation iPhone this fall with front-facing 3D-sensing FaceTime camera, full-face display, wireless charging and more.