Watch: 2017 12.9" iPad Pro vs. 12" MacBook
By AppleInsider Staff
Thursday, August 24, 2017, 04:21 pm PT (07:21 pm ET)
Apple packed a ton of processing horsepower and cutting edge display technology into its latest iPad Pro series, but is it enough to replace a full-size laptop? AppleInsider takes a closer look in this comparison video.



For reviews, news, tips, features and more, subscribe to AppleInsider on YouTube.



Unbeatable Deals from AppleInsider & Apple's Top Authorized Resellers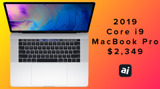 SAVE $450.00 - Core i9 MacBook Pro discounted to $2,349
Today's Headlines
No news headlines yet today
Lowest Prices Anywhere!