Fueled by Apple Watch sales growth, smartwatches take over wearables market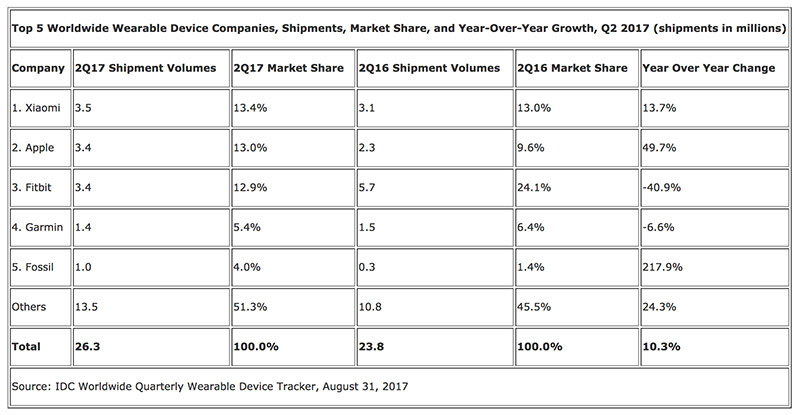 The wearable market is at a tipping point, with smartwatch sales showing strong growth on the back of popular devices like Apple Watch, while basic fitness bands slumped for the first time, according to fresh segment statistics.
In its latest Worldwide Quarterly Wearable Device Tracker report, market research firm IDC saw a substantial 60.9 percent uptick in smartwatch sales during the second quarter of 2017.
The tracked smartwatch growth comes as the popularity of basic wearables like step counters and health trackers fades. Over the past quarter, shipments of fitness bands and other rudimentary devices incapable of running apps fell 0.9 percent, the first decline detected by IDC.
"The transition towards more intelligent and feature-filled wearables is in full swing," said Jitesh Ubrani, senior research analyst for IDC Mobile Device Trackers. "For years, rudimentary fitness trackers have acted as a gateway to smartwatches and now we're at a point where brands and consumers are graduating to a more sophisticated device. Previous niche features such as GPS and additional health tracking capabilities are quickly becoming staples of the modern smartwatch."
Chinese upstart Xiaomi maintained its lead in the second quarter, capturing 13.4 percent of the market on 3.5 million units shipped, up 13.7 percent on the year.
Apple exhibited strong growth after the release of Apple Watch Series 2, a revamped version of the tech giant's original wearable that places an emphasis on health and fitness. Watch took 13 percent of the overall wearables market in quarter two, shipping 3.4 million units over the three-month period, IDC said. That figure is up 49.7 percent from the same time last year.
Fitbit, which popularized basic fitness trackers, fell precipitously from first to third place over the past year. The firm managed the same 3.4 million unit shipments recorded by Apple in the second quarter, but took 12.9 percent of the market, down from 5.7 million shipments and a 24.1 percent share in 2016.
Responding to IDC's findings, a Fitbit spokesperson said the company remains "the leading global wearable brand of choice," noting its wide selection of device offerings has resulted in more than 67 million units sold. The firm touted its new smartwatch, the Fitbit Ionic, saying the device delivers a feature set never before seen in a smartwatch product.
"With the introduction of a new relative SpO2 sensor that could be used in the future to track health issues such as sleep apnea, Ionic also delivers on Fitbit's commitment to develop innovative technologies that drive positive health outcomes, helping to transition wearables from a 'nice to have' to a 'need to have,'" Fitbit said.
Rounding out the top five on IDC's list were Garmin and Fossil, which managed 5.4 percent and 4 percent of the total wearables market, respectively.
Apple is expected to announce a new Apple Watch version at its special iPhone launch event on Sept. 12. The rumored device is anticipated to be Apple's first with LTE connectivity, a major feature addition that will help cast the device as a standalone product rather than an iPhone accessory.