Nest brings HVAC energy saving to the masses with $169 Thermostat E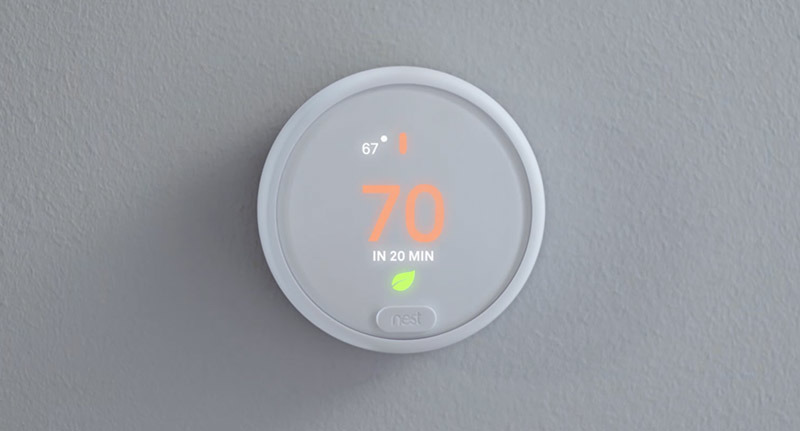 Nest on Thursday unveiled Thermostat E, a redesigned and less expensive version of the firm's original Learning Thermostat that launched in 2011.
Announced through the company's website, Thermostat E boasts many of the same features that made the first model — and consecutive refreshes — popular, including integrated sensors, intelligent money-saving software and mobile connectivity.
Unlike past revamps, Thermostat E is a completely new product line. Bearing the same circular shape as past models, the new E is made of white polycarbonate, with a similarly colored frosted LCD screen that gives the display a soft and subtle look.
Nest designed a new interface for Thermostat E, which when combined with the polarized film layer produces a watercolor effect. This eschews the need for a high-resolution display and allows the device to blend in with its surroundings when not in use.
User controls are identical to Nest's original thermostat, with a large exterior ring acting as a means of input. Whereas E's bigger brother boasts a metal control wheel, the E makes do with plastic manufactured to feel like ceramic.
Users can adjust HVAC temperatures with the wheel or tap into Nest's iOS app for remote access. The app is also where users can set operating schedules, view energy history, set up user family accounts and monitor connected hardware.
While it costs some $80 less than the Learning Thermostat, the Thermostat E sports the same energy saving features like smart scheduling and user presence technology. The new version does, however, lack "Farsight," which displays the time, temperature or weather directly on the unit's screen.
Nest's Thermostat E sells for $169 and can be purchased from the company's website.